As New York Starts To Reopen, New Hotspots Are Surging In The South
by Elizabeth Broadbent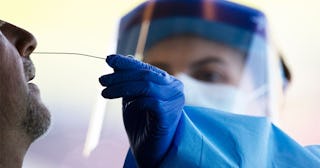 Brett Carlsen/Getty
South Carolina set another record high this week. Though the state's capital of Columbia is known as "famously hot," the record wasn't based on temperature. Instead, nearly every day has seen a new record high in COVID-19 cases as the virus "continues to pound" South Carolina, says The State.
Governor Henry McMaster lifted nearly all restrictions — including opening zoos and amusement parks and allowing indoor dining — as of Memorial Day (most of us can probably agree this was a terrible decision). On June 11th, 14.3% of people tested for COVID-19 were positive, and the number of new cases is surging, with 687 that same day. Forty percent of the state's cases have been diagnosed in the last 3 weeks,The State continues. And if you check The New York Times interactive map, you can see that Columbia, South Carolina is becoming a small new COVID-19 hotspot.
And you can see that Columbia isn't alone.
While New York has begun to reopen, a new COVID-19 hotspot has emerged. The disease is now raging in the American South.
Where's the New COVID-19 Hotspot Again?
Breathe a sigh of relief (for now), New York, New Jersey, and Massachusetts, some of the hardest-hit states in the US, says The New York Times. Those numbers, especially in New York, have dropped precipitously. Yet only three spots south of the Mason-Dixon line join that list of states with decreasing numbers.
One is Virginia, where the University of the Virginia was one of the first major schools to go to all-distance learning on March 11th, and where CNN reports Governor Ralph Northam closed schools for the rest of the year as early as March 23. Gold star for COVID-19 responsiveness goes to Virginia! Maryland and West Virginia have also seen decreases in the number of cases.
Meanwhile, the number of cases in Georgia remains mostly the same, with Atlanta, of course, as a COVID-19 hotspot; Alabama has stayed the same, but it's been a COVID-19 hotspot for weeks — there have been times, reports WTVM9, that Montgomery-area ICUs were full. Though Mississippi numbers stay stable, University of Mississippi Medical Center doctor LouAnn Woodward said the virus hasn't yet peaked in the state, according to The Sun-Herald. Louisiana's supposed to be holding steady… but they've seen an increase in cases for three days straight.
The rest of the South? Well… if this was a zombie movie, y'all would be the ones nailing the boards over the windows, stocking up on canned goods, and building the stockades.
Florida, you're in trouble with a record two-month high in cases, according to NPR. Texas, take your cowboy hat and go into lockdown — or maybe to the hospital, since NPR says you've got a record number of people there right now. North Carolina? You're like, one big red spot on that map. Tennessee, Paul Simon can sing about going to Graceland, but nobody should be. Missouri's the show-me state — and they're showing some numbers, all right. Kentucky's fried. South Carolina? You're famously hot, all right, with what NPR reports as a record high.
What Do All These COVID-19 Hotspots Have in Common?
According to The New York Times, every single state in the South in which cases are increasing or holding steady, except Kentucky, have reopened or plan to soon. The Trump administration recommends that for a state to reopen, it should have either a downward trend in the percentage of positive tests or COVID-19 cases. Clearly, none of these states are meeting those criteria. Clearly, the governors don't care. Clearly, we're putting the economy before people's lives.
Dr. Linda Bell, epidemiologist for the state of South Carolina, said it wasn't unexpected that the state would see the spike since it opened up almost completely on May 11. Between incubation periods and delays in testings, they're just seeing the results now, and, on Memorial Day weekend, she says, "We saw lots of activity with large gatherings, no social distancing, very rare use of masks," reports The State.
But is it Just Reopening?
Spikes in certain places, such as meatpacking plants, could inflate numbers: making a mini COVID-19 hotspot, and hence, making the state look like a big one, suggests USA Today. One outbreak in a nursing home, prison, or assisted-care facility that affects a large number of people inflates numbers of both positive testing percentages and cases (and possibly deaths) in a state.
At least in Texas, the Statesman reports that Austin health officials say the lack of social distancing, mask wearing, and other precautions is helping to cause the current surge in cases making Austin a COVID-19 hotspot.
Will the Protests Create New COVID-19 Hotspots?
The US Surgeon General Jerome Adams has warned that the protests over George Floyd's murder will cause a spike in the number of COVID-19 cases, reports CNN. Though many protesters have worn masks, they've obviously not been social distancing. He told Politico, "I remain concerned about the public health consequences both of individual and institutional racism [and] people out protesting in a way that is harmful to themselves and to their communities."
Racism, of course, puts the Black community's health at risk — but so does COVID-19. As the CDC reports, PoC, especially Black people, are more likely to die of COVID-19 than whites. And we won't know for a few weeks, because of the nature of testing and the incubation periods, how much the protests have spread the disease, says CNN. By then, it'll be too late to contain the damage.
So What Should We DO?
If you live in the South?
Stay home.
If you absolutely must go out, socially distance and wear a mask.
But mostly? Stay the hell home and chill out — before your community becomes a hotspot too.
This article was originally published on