Terrifying Video Of The California Fires Looks Like The End Of Days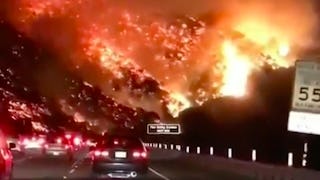 Image via Twitter
California wildfires are destroying homes and thousands of acres of land in and around LA
Firefighters and first responders are working tirelessly to control several wildfires that erupted this week in Southern California. In Ventura, the wildfire known as the Thomas fire burned through 65,000 acres of land on Wednesday alone. Earlier this week, north downtown LA battled smaller but still dangerous fires known as Rye and Creek.
The latest wildfire to spark is known as Skirball. Over 46,000 people were evacuated from its path, which includes Bel Air and some of the massive mansions we all think of when we hear the word Hollywood. Its towering flames shocked morning commuters on the 405 early Wednesday before the highway was closed due to safety concerns.
Those flames look they're straight out of a horror movie, but sadly they're all too real. Over 200,000 people have been told to evacuate the LA area overall, a task that was complicated by the highway shut down.
Officials are doing everything they can to try and contain the blaze. "Our plan here is to try to stop this fire before it becomes something bigger, so that we don't have to have … a two-front war," Los Angeles Mayor Eric Garcetti (D) said during a news briefing. "These are days that break your heart. But these are also days that show the resilience of our city."
Due to the heat levels from existing flames and smoke, it's impossible to know exactly how many houses have been destroyed by the fires at this time. As of Tuesday morning, officials said they believe at least 180 structures have been completely ruined. But while the thought of losing all your possessions is unthinkable, the good news is so far there have been no reported casualties due to the wildfires.
Even parts of California that aren't directly in the path of the fires aren't completely in the clear. There's currently a red flag warning in effect until 8 p.m. Friday, meaning winds could cause more wildfires. Smoke from the existing fires is impacting the air quality of the surrounding areas, prompting officials to encourage people to stay inside if possible. The combination of the fires, evacuations and air quality led to the closing of over 80 schools in the LA area for the rest of the week.
Celebs who call LA home took to Twitter to update fans about their safety status, to share messages of support and to give first responders and fire fighters all the respect for being the ones to tackle these blazes head on.
Christy Teigen hasn't had to evacuate yet but she let us know where her priorities are if that's what it comes to (sorry John). She also expressed her gratitude for all the selfless rescue workers trying to stop the blazes from spreading.
Ryan Seacrest tweeted out a helpful list of handles for LA residents to follow for important safety updates.
Unfortunately, the news and images coming from southern California may get worse before they get better. Seeing these videos and reading from the folks there can make us feel helpless in the wake of such a massive natural disaster. Our thoughts are with the people of Southern California, and the first responders and fire fighters on the scene.
If you're looking for other way to help, the United Way of Ventura County is accepting donations via text and online. You can text UWVC to 4144 or visit their website for the Thomas Fire Fund. One hundred percent of donations will go to the fund. The American Red Cross of Ventura County has set up three shelters in the area and are accepting donations. You can text REDCROSS to 90999, visit the redcross.org or call 1-800 RED CROSS (1-800-733-2767) to donate.