Sweet Story Of Southwest Employee Comforting A Scared Girl Goes Viral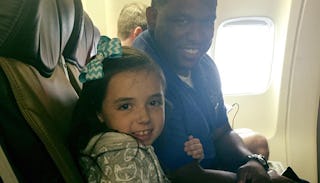 Photos via Facebook.
Southwest Airlines employee Garrick recognized for ' beautiful, selfless soul'
A Southwest Airlines employee is being recognized for his incredible kindness after comforting a very nervous 9-year-old girl on her flight from Orlando to Newark. Gabby, alongside her mom and two younger siblings, were on board a Southwest flight Friday when an employee named Garrick was able to remind us all that flying can be a rewarding experience.
The child has severe anxiety when on planes and also has type 1 diabetes. Garrick noticed and made it his mission to ensure Gabby landed safely and in good spirits. "Upon take off he noticed she was struggling. Throughout the flight he tried making her laugh and bringing her special drinks," Erika Jeorgean Swart wrote on Southwest's Facebook page.
"As we were getting closer weather was rough and there was a bit of turbulence. Gabby began having a complete panic attack on descent." Turbulence is annoying and can be scary at any age so we can imagine this poor kid was really stressing at this point. Garrick noticed as well and asked if he could sit next to Gabby since that seat was empty. "She happily accepted his offer," Swart said.
Gabby's mom was in the row right across from her but couldn't leave it since she had her two younger children with her and was traveling without her husband. "He suggested they talk to distract her from thinking about the landing so they talked for around 30 minutes about everything from his daughter who is the same age to her pets to what grade she is going into," Swart explained. "During extremely rough turbulence she began crying and grabbed his arm, he gently told her she could hang on as long as she needed to."
Then things got a bit scary for the family of four. Due to the stress Gabby's mom said her daughter's blood sugars began crashing. Garrick brought the child some orange juice and sat with her for the remainder of the flight. "She asked again if she could continue to hold his arm while the plane was landing. He of course agreed," Swart wrote.
Flying with kids can be a total nightmare – last year a family was kicked off a flight when their autistic child was deemed disruptive and a mom who was 7-months pregnant had her flight grounded because her toddler was crying. After hearing so many horror stories of airline employees treating families with no compassion, it's incredibly refreshing to hear how kind and patient Garrick was with this child. And because Garrick is the coolest, he went on the intercom and announced that his friend in the front row overcame her fears of flying and asked for a round of applause.
"The whole plane clapped for her. It was a wonderful experience on Southwest. We are forever grateful to have met such a beautiful, selfless soul," Gabby's mom wrote. "Doing his job would have been to respond to any requests I had and handled his required responsibilities. This was over and above an act of service and love," she wrote in a follow-up post.
Southwest responded to Swart's post saying in part, "We can't even tell you how proud we are of your daughter for getting through the flight. She is a brave girl and it was a pleasure having you and her both onboard with us."