'Unmanned' Southwest Airlines Flight Celebrates All Female Crew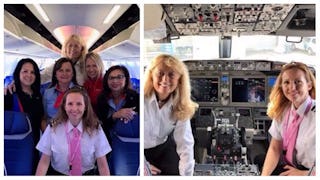 Image via Twitter/Southwest Airlines
This flight definitely deserves to be recognized
This week Southwest Airlines held their first "unmanned" flight on their new fleet of Boeing 737 Max 8 aircrafts.
The Dallas based airline was flying from St. Louis to San Francisco Wednesday when they realized the plane was staffed with an all female crew, including their two pilots.
The women snapped a few pictures of themselves and when Corporate saw the pic, immediately tweeted it out, saying, "The first 'unmanned' Southwest flight on a @BoeingAirplanes 737 MAX 8!"All-female Crew pic taken before flying STL – SFO."
For those saying, "Why make a big deal out of this, anyway?" it's because even today, it's still a really big deal. According to Air & Space, only 6.61 percent of pilots are women. And even that percentage is misleading. "Of that number, just 25,216 have an "other-than-student" pilot certificate, just 4.21 percent of the total of all U.S. pilots," they report.
A two year U.S. study found the reasons given for this discrepancy were "lack of money for flight training, followed by 'instructor-student communication incompatibility'; instructors leaving flight instruction to take airline or charter service jobs, requiring the flight student to start over with another instructor; and a lack of female mentors," Air & Space said.
Southwest, for its part, seems to be taking steps to mitigate these statistics. Their former president, Colleen C. Barrett, was the first female president of a major airline. The airline also donated $33,500 to fund scholarships for five female students to pursue careers in aviation, Huffington Post reports.
It's not the first "unmanned" flight in the company's history, but this particular voyage was the first on its new fleet of Max 8 aircrafts, and was something to celebrate.
Once Southwest tweeted the photo Wednesday acknowledging this kick-ass group of employees, they were met with a flurry of positive responses and, because we can't have nice things, a few snarky ones as well. In a now deleted tweet, one clearly insecure man pointed out that the airline "wouldn't be so quick to celebrate an all-male crew," to which Southwest responded perfectly with, "You're right—that's happened quite a few more times."
Boom.
Of course, some showed up with jokes, but were immediately shut down.
Some also showed up to complain, because of course:
https://twitter.com/jetpack/status/920774752754716679
It's doubtful the women of Southwest Airlines let this get under their skin. They are too busy, you know, doing their jobs to likely have even noticed.
This picture was taken in 1972, back when flight attendants were required to wear hot pants and leather boots in order to get the job. The caption on Getty reads, "Stewardesses working for Southwest Airlines of Texas must be able to wear hot pants and kinky leather boots or they don't get the job. In accordance with the airline's motto, 'sex sells seats' interviewees are selected on the strength of their legs and their face."
It's clear the airline has definitely come a long way.