Viral Video Shows Southwest Staff Removing Dad And Toddler From Flight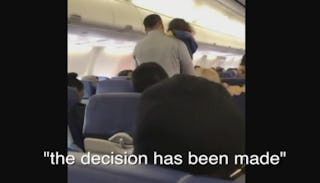 Image via WGN9 Chicago
You can hear fellow passengers telling the flight crew not to remove the father and daughter
An unsettling viral video showing a father and his toddler being forced off a flight is making headlines. Earlier this week, the dad and his two-year-old daughter were escorted from a Southwest Airlines flight after it had already begun taxiing — apparently due to the child's cries prior to departure.
Recorded by fellow passenger Alexis Armstrong, the video shows the dad and his little girl being removed from the Atlanta-bound flight by Southwest staff. Shortly before takeoff, the toddler became frightened and began loudly crying.
You know, like a fucking toddler. Who's probably not used to being in a giant, overwhelmingly noisy aircraft carrier surrounded by hundreds of people.
It's worth noting Armstrong said by the time the plane was gearing up for takeoff, the little girl had settled down quietly. And in the video, she's not making so much as A PEEP while the airline staff members are conduct their power trip.
Armstrong said the little girl wanted to sit in her dad's lap — you know, LIKE A FUCKING TODDLER. Because when little ones are upset, they want to be held and consoled — not placed in the upright position in a cold leather chair and buckled in.
The video shows two members of the flight crew can be seen talking to the dad. You can also hear the muffled complaints of other passengers who seem to feel forcing them from the flight was a little extreme. One woman says, "She was just scared, he was trying to calm her down." Then the flight attendant says, "You want to go to Atlanta? The decision has been made."
Armstrong, who was sitting a row back and across the aisle from the family, said she didn't think the couple or little girl should have been kicked off the plane.
I have been on planes with drunk, belligerent adults. I once had endure a four hour flight next to a dude bro who must have bathed in a vat of Drakkar Noir before boarding, who then proceeded to sexually harass me more than once. I've also been the mom flying with an 18-month-old on her first plane ride during the worst turbulence I've ever witnessed, and was sweating bullets and battling extreme anxiety and motion sickness while simultaneously comforting my child. I also have close family and friends who are excellent flight attendants who would never dream of handling a crying toddler situation this way.
What it boils down to is this: being on a plane is like taking a city bus and throwing it up into the air — you're gonna get a whole bunch of different kinds of people and experiences. The two-year-old in question most likely wasn't harming anyone or herself; she was just way out of her comfort zone and needed the comfort of her dad. While we can't know each intimate detail that transpired, forcibly removing them from a flight seems… unnecessary, to say the least.
For their part, Southwest released the following statement:
"After pushback Wednesday evening, Flight 1683 to Atlanta returned to the gate at Midway to allow supervisors to board the aircraft. Our initial reports indicate a conversation escalated on board between the crew and a customer traveling with a small child. We always aim for a welcoming and hospitable experience and regret the inconvenience to all involved. The traveling party was booked on the next flight to Atlanta after the original flight continued as planned. We will reach out to the customer[s] to listen to any concerns they have about their experience and look forward to welcoming them on board again soon."