Southwest Flight Attendant's Sassy Safety Demonstration Goes Viral
by Sarah Hosseini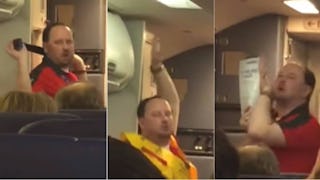 Image via Facebook
This video of a Southwest flight attendant is hilarious
A Southwest flight attendant just did the impossible: he made flying fun. And dare I say, HOT.
Many of our eyes gloss over during the safety demonstration on planes. But sassy Southwest employee, Nicholas DeMore, flipped the script on tired runway routines. The world is this man's runway and we are here for it.
Passenger Samantha Lynch Kintner posted video of the hilarious (and steamy) safety number on Facebook with the caption, "My flight attendant was awesome." Agreed. This is how you get people's attention and make them remember safety instructions, honey.
He's got some serious moves. The things he does with that seatbelt, whew.
Kintner was aboard Flight 1597 on November 9 from Dallas to Las Vegas with a stop in Albuquerque, New Mexico, where the now-viral demonstration happened. She was traveling to Vegas for her mom's 74th birthday and her nephew's 21st birthday. It also would've been her parent's 55th wedding anniversary (sadly her dad died from cancer last year).
"Most people tune out during the safety information because they've heard it so many times before, but he made it enjoyable," Kintner tells Scary Mommy. "Everyone thought he was hilarious."
You can hear the passengers cracking up. Even his fellow flight attendant who was trying to explain the safety information over the loudspeaker in her serious voice, was giggling throughout her speech.
"There's a safety information card located in your seatback pocket near your shoes, try to take a look at it. I mean the card," she says laughingly. At which point, DeMore fans himself with the card and breaks out laughing too.
His life jacket performance followed, which looked more like a burlesque show than a safety demonstration. He obviously nailed it with passengers hootin' and hollerin' for him. I'm almost surprised no one made it rain with dollar bills for this guy.
After a sexy, hip-swaying jaunt down the tin can aisle he turned the corner and held out his life jacket and dropped it on the floor. The crowd went wild.
The fun didn't stop there either.
"He was funny throughout the flight–referring to the pretzels as filet mignon, welcoming us to 'Lost Wages' instead of Las Vegas, and wishing us a Happy Easter as we deplaned," Kintner says.
Southwest is famous for making passengers smile in their seats.
"Our Employees are known for their fun-loving attitudes, and we love that he has created such a lighthearted and memorable experience for Southwest Customers!" a Southwest Airlines spokesperson said.
DeMore has been with Southwest for eight and a half years and he says the people inspire him to give his plane performances his all.
"I do it to make people forget about the trouble in the world and just smile and laugh which we need more of right now," DeMore tells Scary Mommy.
He's got that right – and literally the whole world is smiling watching his video.
"Every passenger has a story, and you never know what someone is going through on a day-to-day basis," DeMore tells WIS. "Their travels can be taking them on vacation, girls weekend, or a golf trip, but they could also be going to see a friend in the hospital, to take care of their elderly parents, or even a funeral. I love being able to make them forget their troubles or enhance their trip just by being me, and Southwest lets me bring my personality to my job."
DeMore is a gem in the sky and we probably all wish to see him on our next flight. Or on Broadway.
This article was originally published on