'Space Jam: A New Legacy' Is Not The 'Space Jam' Of Your Childhood
by Sa'iyda Shabazz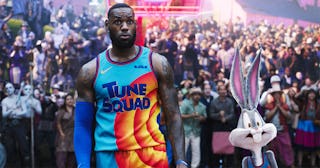 Courtesy Warner Bros. Pictures
As an elder Millennial, I had big feelings about a "Space Jam" reboot. The original is iconic in so many ways. Michael Jordan was the biggest athlete in the freaking world in the '90s. I have parents who are very into sports, even though I'm not, and basketball was a huge thing in my house. And even though I have nothing more than a passing interest, you can rest assured that I had a Chicago Bulls Starter jacket for several winters. Like every other kid, I wanted to be "like Mike." I knew every commercial he was in: Hanes, Wheaties, McDonalds. Michael Jordan transcended the sport of basketball.
"That movie was everything," one of the film's stars, Sonequa Martin-Green, told Scary Mommy via Zoom. "It's near and dear to my heart."
And then you have the Looney Tunes. On Saturday mornings, you couldn't get me away from the TV during "The Bugs Bunny & Tweety Show." Those cartoons were everything to me — they still are, honestly. Marvin the Martian is still my favorite, followed by Tweety and Foghorn Leghorn. I know, I'm random. Pairing them up with Michael freaking Jordan? Fucking genius.
The thing I love about the original "Space Jam" is that it's nothing more than absurd, campy fun. You can tell it didn't take itself seriously, and how can it? The Looney Tunes are inherently absurd, so anything involving them isn't going to take itself too seriously. I think that's what I was missing from the reboot. It took itself almost a little too seriously, which took some of the fun out of it for me. When you have an entity that is known for being irreverent, you don't really expect there to be much of a plot. And "Space Jam: A New Legacy" is nothing but plot. That's not to say it isn't funny, but if you're coming for that campy fun, you may be missing it at the end.
"It's one thing to be the sequel of 'Space Jam,' but it's another thing to bring it to this current day and age in such a compelling way," Martin-Green said.
Much like its predecessor, "Space Jam: A New Legacy" teams one of the biggest athletes in the world, LeBron James, with the Looney Tunes, saving them from an unfortunate fate. And while basketball is still an important focus of the story, there's a lot more going on. The TL;DR version of the plot is this: LeBron James's son gets lured into the "Serververse," by Al-G Rhythm, an algorithm played by Don Cheadle. When he's kicked into the reject pile, he finds Bugs Bunny, the only inhabitant left in Tune Town, all his friends having been lured to different Warner Bros. owned lands. They have to team up to play in the ultimate basketball game, and if they don't, the Looney Tunes and LeBron's son, Dominic, could be lost forever.
The standout star of "Space Jam: A New Legacy" is, without a doubt, Don Cheadle. He's not really known for being much of a comedic actor, but he really shines as the wicked Al-G. It would be really easy for him to play the part seriously, but you can tell he was having a great time with it.
"Is he really the villain, or is he just this misunderstood bon vivant of the Serververse?" Don Cheadle asked Scary Mommy during an interview on Zoom.
That is a good question. Because for all intents and purposes, yes — Al-G is without a doubt the "bad guy," as my son says. But is he really bad, or are his attempts at recognition just not cutting it? Making the villain an algorithm is incredibly clever, and also indicative of where we're at culturally.
"We're talking about a culture where if it doesn't happen online, it doesn't exist. People want to get attention, and infamy is as good as fame just as long as people are talking about you. It isn't a new concept, but it's supercharged now because of social media. I think Al-G is a perfect avatar for all of those things, and a cautionary tale — one that comes to a fitting end."
LeBron James is a lot of things: an All-Star, Olympian basketball player, an activist, and a philanthropist. He is certainly not an actor, but he does a good job holding his own against the Looney Tunes. It can't be easy to do most of your scenes with co-stars who don't exist, but he's as natural as you'd expect him to be. Sometimes it feels like he would have done better with a less emotional storyline, but overall, he was very enjoyable to watch. I don't think "Space Jam: A New Legacy" is an indicator that he's going to give up basketball for an acting career anytime soon, but he's a good sport about playing himself.
"He was so prepared," Martin-Green said of James (she plays his on-screen wife). "He brought that championship mindset, that leadership from the court to the set, and he knew what was going to be required of him. He came ready to go."
One of my biggest (and only) criticisms is how heavy-handed Warner Bros. is with their own catalogue. They didn't waste any opportunity to remind the audience what they own, whether it was Foghorn Leghorn flying on the back of a dragon dressed as Daenerys from "Game of Thrones," Elmer Fudd as Mini-Me from "Austin Powers," or Granny and Speedy Gonzales as characters in "The Matrix." It worked in the plot, but it could have been toned down significantly.
I have a seven-year-old son who is a very big fan of the original "Space Jam." This kid has probably seen it more times than me at this point. When he first heard there was a new sequel coming, he was probably even more reluctant than I was to watch it. What can I say, I've raised him well. Of course I took him to see it and he said that not only did he enjoy it, he likes them both. You cannot ask for a more glowing recommendation honestly. He's now trying to dribble every ball he sees like he's LeBron, and Al-G is his favorite "bad guy" ever.
If you're looking for an exact sequel, you're not going to get that from "Space Jam: A New Legacy." This is definitely its own movie, with some minimal crossover. There are a few tongue-in-cheek references from the original, and a hilarious gag cameo, but otherwise, it's kind of hard to even compare the two. Fans of the original may find it surprisingly enjoyable, but the nostalgia of our '90s childhood isn't going to be found in this movie. That's why the original is available for streaming. This is definitely a "Space Jam" for the next generation.
"Space Jam: A New Legacy" will be available for streaming on HBO Max and in theaters on July 16th.