Special Education Teacher Includes Her Entire Class In Her Wedding Party
by Christine Organ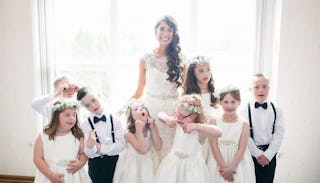 Image via Lang Thomas Photography
A special education teacher invited her entire class to be in her wedding party, and the Internet melts
When special ed teacher Kinsey French was planning her wedding, she knew there were a few people who needed to be part of the big day. She and her fiancé, Josh, for instance. They were pretty important. But she wanted all of the students in her class to be there, as well. And the students weren't just guests at the wedding; they were part of the wedding as ring bearers and flower girls.
According to Kentucky television station WLKY, French provides speech and occupational therapy to a group of students with Down syndrome at Christian Academy's Rock Creek campus in Louisville, Kentucky. Over the year, French and her students developed a close relationship – so close, in fact, that when she was planning her big day, she knew she wanted them all to be a part of it.
The very talented married duo at Lang Thomas photography documented the day.
"They were like family to me," French said. "They were my first class and they've been my only class and so I knew I couldn't have a special day without them."
Needless to say, when her adorable wedding party walked down the aisle, there wasn't a dry eye in the house. And just one look at the photos will give even the coldest of hearts a spontaneous case of eye sweat.
The students were thrilled to be included in the wedding, and told WLKY-TV that the highlight of the day was dancing, which, of course, included the Dab and the Whip and Nae-Nae. And who can blame them? Dancing is the best part of weddings, aside from whole love and marriage part that is.
For French, having her students with her on this most special day made her wedding complete. The students had been there when Josh proposed, so it was even more fitting that they be there when the two got married.
As parents, we all hope that our children will have a positive relationship with their teacher. We want them to learn and grow, to be cared for and nurtured. But French's special bond with her students is something else entirely, surpassing even the highest of expectations for the parent-student relationship. You can see the children's admiration for Ms. French in their eyes. And the feeling is obviously mutual.
"It was really special for Josh and myself just to have them a part of the day, and have them come with us and celebrate with us," French said.