A Speeding Driver Destroyed The Life They Had -- 2 Years Later, They're Still Waiting For Justice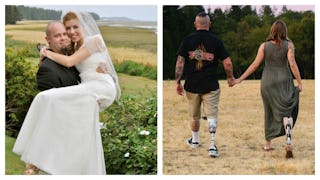 LEFT: Lauren Wallaert; RIGHT: Wild Things Photography
In August of 2016, Lauren and Jeremy Wallaert were enjoying a motorcycle ride with friends in New Mexico when the unthinkable happened. A gold Hyundai came careening around a corner in front of them and veered into the Wallaert's lane. The next thing the couple saw and felt was a chaotic mess of blood, bones, confusion, and despair.
"I woke up and saw weeds in my face," says Lauren Wallaert. "I could taste dirt and wanted to move but couldn't." A friend ran his fingers through her hair, telling her she had to stay awake. He applied a tourniquet to her leg, which had been severed at the ankle upon impact.
"I mustered up the strength to look down at my leg to see why it hurt so badly," says Wallaert. "I saw bones sticking out of my jeans and so much blood. I screamed, 'Don't let me die! You can't let me die!' Then it hit me—my beautiful daughter. Both of her parents were going to die. She was going to grow up without her parents. I screamed her name and begged my friends not to let me die."
The Wallaerts' daughter, Hailey, was three years old at the time. Lauren heard Jeremy telling her he loved her as she slipped in and out of consciousness on the side of the road.
"The next thing I remember was waking up in the hospital," says Wallaert. She couldn't move or open her eyes, but she could hear the nurses talking. "They said I was a Jane Doe and came in with my foot in a bag. Another nurse asked if I was part of the crash where someone died."
She thought it was Jeremy who had died. It was their fifth wedding anniversary.
Fortunately, Jeremy lived. But like Lauren, one of his legs was shattered in the accident. Doctors partially amputated his foot and placed the rest of his leg in an external fixation device to help the bones fuse back together. Unfortunately, that didn't happen, and his leg was amputated below the knee eight months later.
The couple had survived the crash, but their lives would never be the same.
Jeremy lost his auto body and restoration business because he could physically no longer do that kind of work. He and Lauren have both had to endure painful prosthetics, and Jeremy suffers from severe nerve pain as well. They've had to figure out how to parent their children as amputees and struggle with PTSD.
And to top it all off, the driver of the Hyundai that hit them has experienced no legal ramifications for the horror she brought to their lives.
The 36-year-old driver, MaryAnn O'Quinn, had her 15-year-old daughter, two teenage nephews, and a third male in the car when she rounded the corner at least 30 mph over the 55 mph speed limit. O'Quinn lost control, hit the motorcyclists, and flipped the car. She and her daughter, who were not wearing seatbelts, were ejected. The 15-year-old died at the scene.
One of the bikers said he smelled alcohol on O'Quinn's breath, but no field sobriety tests were conducted due to the chaos at the scene of the accident.
O'Quinn was charged with vehicular homicide, five counts of great bodily injury by vehicle, two counts of child abuse, and driving with a suspended license. But two-and-a-half years after the accident, O'Quinn walks free as her case has still not gone to trial.
The Wallaerts are frustrated with how long it's taking for justice to be done, and with how the case has been handled.
"We never heard from anyone after the police took statements over the phone immediately after the crash," says Wallaert. "Maryann O'Quinn was never cited or charged after the crash. No blood alcohol testing was performed at the scene of the crash. We wanted Maryann O'Quinn to be held responsible for what she did to all of us. The DA agreed to pursue the case."
Wallaert says that Maryann O'quinn was facing up to 63 years in prison and was considered a potential flight risk. But the judge placed her on pretrial services and released her into the custody of her mother.
"We weren't offered an explanation as to why Maryann was placed on pretrial services," says Wallaert. "At that hearing we 'stood' in front of the Judge. We asked him to book her immediately. We explained how it had been almost a year at that point and she had yet to be held responsible. She was out living her life without any repercussions from her actions. Meanwhile we were having countless surgeries, amputations, severe PTSD, loss of income, and barely learning how to walk again. Hearing her plea not guilty and listening to the judge place her on pretrial services was like a slap in the face."
O'Quinn refused a plea deal, chose to go to trial instead. But in January of 2019, her attorney claimed she was "incompetent" to stand trial. "The judge hasn't ruled on it yet, so we're hopeful he won't accept the evaluator's findings," says Wallaert. "Two-and-a-half years later and here we are, wondering if she'll even serve any jail time at all. How absolutely terrifying is it that you can cause so much wreckage and get away with it in New Mexico?"
The Wallaerts moved away from New Mexico in October of 2017 and have tried to make a fresh start in Oregon. They even welcomed a new baby last fall—a blessing they weren't sure they would ever see again. But they are still haunted by the trauma of the accident and by the fact that that O'Quinn walks free after destroying the life they'd had.
"Jeremy and I have worked really hard to move forward," says Wallaert. "Having this case drawn out for so long makes it really challenging to do that. It takes us right back to that day and all of those feelings we've fought so hard to forget come rushing back."
This article was originally published on