Woman Orders Food Just So The Deliveryman Could Kill A Spider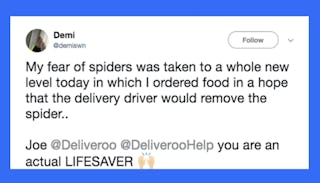 Image via Demi Sweeney/Twitter
This woman was afraid of a spider in her house so she ordered food and put in a special request
A woman in Bournemouth, England has officially won the internet for introducing us all to a brand new, ridiculously genius life hack. And it's all thanks to really scary spider, a special food order, and a very brave deliveryman.
Demi Sweeney first discovered the spider when she woke up in the morning. The 22-year-old college student told Buzzfeed News that the creature was hanging outside her bedroom door and she was terrified that it would drop on her. No one else was home to help her, so she decided to get creative. Sweeney put in a food order for KFC and included a special request that the delivery person kill said spider.
Here's how that conversation went down:
Well, lo and behold, a deliveryman named Joe arrived to both hand over her food and be a literal superhero.
For those of you currently rolling your eyes – Arachnophobia is the real deal, people.
It turns out that Joe was actually also scared of spiders, but he took one for the team. The whole killing process was a little messy, but ultimately successful.
"When I pointed at the top of the stairs handing him the tissue roll and getting him a chair to stand on, he then reached for the spider and accidentally dropped it on the floor where it began to run, which made me panic more," Sweeney told Buzzfeed. "He said: 'Look away, don't look.'"
Joe ended up flushing the spider down the toilet and Sweeney "thanked him around 50 times." She also captured a shot of him in action, and the picture will make you believe that humanity maybe still exists.
Thankfully, it looks like Joe is going to get all the proper accolades. Deliveroo responded to Sweeney's tweet, writing: "What a guy! Great to see Joe could lend a helping hand – we hope nobody got stung! We'll drop you a DM you shortly so we can give Joe the praise he deserves."
https://twitter.com/jetpack/status/1002164237282705409
The rest of the internet heartily agreed.
https://twitter.com/jetpack/status/1003097038475710464https://twitter.com/jetpack/status/1001869174329823232
Three very large cheers for Joe, England's bravest food deliveryman/all around superhero.