There's A Hocus Pocus Halloween Line And You're Going To Want Everything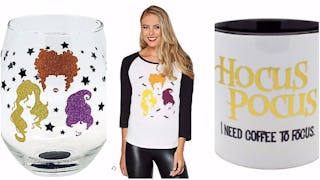 Image via Spirit Halloween
You're going to want to run "amok" in literally all of this Hocus Pocus merchandise
There's not a millennial alive who doesn't know and love Hocus Pocus. It's got everything we needed as kids in the '90s: a star-studded cast we were almost too young to truly appreciate, a banger of a soundtrack, comedic gold, and — of course — Jay and "Ice."
The costume store Spirit Halloween has partnered with Disney to make our millennial dreams come true by offering an entire line of Hocus Pocus merch that puts anything you've seen on Etsy to shame.
Want to dress up as your favorite Sanderson sister? No prob. ("Aren't you broads a little old to be trick-or-treating?" LOL. Penny Marshall 4 ever.)
Oh hell YAS, we can't wait to channel our inner Bette Midler.
Raise your hand if you're more of a Mary.
And who could forget Sarah, coiner of the "Amok! Amok! Amok!" catchphrase. SJP's finest role, if you ask us.
But the awesome merchandise doesn't end there. If you're not feeling the whole nine yards with a costume, don't worry. There are plenty of ways you can represent the best Halloween movie ever made.
Okay. Take our money. Take it ALL.
Because let's be honest, most of our days are spent going from coffee to wine and back again.
Why yes, we *will* pair this baseball tee with a pair of pleather leggings, thank you very much.
If seeing Thackery Binx transform from sarcastic, witty cat to red-blooded teen boy didn't make you feel some kind of way when you were young, are you even really a Hocus Pocus fan? While Max was all about the "yabbos," many of us were all about Binx.
There are wigs, keychains, pillows, candles (for virgins to light, of course), and shot glasses available too if any of those things are your jam.
BRB, spending our whole paycheck in one fell swoop.
This article was originally published on