SpongeBob Prequel Series Gets The Green Light
by Love Barnett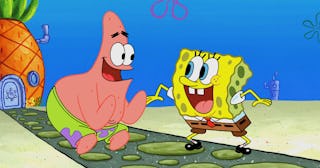 Nickelodeon
"Whoooo libs in a pineapple under da sea? PONGE BOB KWARE PANS!" What? You mean that isn't how your toddler sings it? I can still hear Spawn's little raspy squeal like it was yesterday. SpongeBob's theme song has haunted my dreams for close to 20 years now, and I have to admit that I still watch it sometimes when the kids aren't even home.
When the feature length movies came out, we were first in line to check them out, even though my older kids are pretty much grown now. You could say we all grew up with SpongeBob, and he's as much a part of our lives as any cartoon character ever has been, annoying chitter of a laugh or not. And now, wonder of wonders, the Bikini Bottom Universe is getting a revamp, in the form of a prequel series, featuring SpongeBob and his friends — as children during a summer sleepaway camp!
Nickelodeon recently gave the green light for a 13-episode series spinoff of SpongeBob SquarePants, currently titled Kamp Koral, which will follow everyone's favorite incurably optimistic marine sponge during his summer at sleep-away camp.
As you may recall, the original series has never dug too deeply into how old SpongeBob actually is, but we assume he's at minimum a young adult, as he owns his own home and is gainfully employed. The spinoff is set up to be a prequel, and is said to follow 10-year-old SpongeBob and his pals as they "spend the summer building underwater campfires, catching wild jellyfish, and swimming in Lake Yuckymuck at the craziest camp in the kelp forest," per the official announcement.
This series will be CG animated, and production is scheduled to begin in June just before the original series' 20th anniversary in July. There is also a new movie in the works, which is supposed to be ready in 2020, but no word yet on whether this prequel series will lead into that, be ready before the film, or whether they will each be unrelated to the other. But either way, we get more SpongeBob, and then MORE SpongeBob.
According to Ramsey Naito, who is Executive VP of Animation Production and Development at Nickelodeon, "SpongeBob has an incredible universe to expand upon and the greenlight for Kamp Koral is a testament to the strength and longevity of these characters known and loved by generations of fans around the world."
According to Deadline, "the pickup for Kamp Koral comes on the eve of the 20th anniversary of SpongeBob SquarePants' debut on July 17, 1999. It will be marked with Best Year Ever, a tribute that includes an original one-hour special, SpongeBob's Big Birthday Blowout, premiering Friday, July 12."
Twenty years. Great googly moogly. How old do you feel right about now?
While I'm not sure aboutthe CG angle, I have to admit that the Bikini Bottom Universe has been a huge part of my life for the last two decades, through five children. I'm not saying SpongeBob and Patrick have been the best babysitters ever, but between them and Dora, they probably spent more time with my preschoolers than I did.
According to Deadline, "since its launch, SpongeBob SquarePants has reigned as the No 1 kids' animated series on TV for the last 17 years, while generating a universe of beloved characters, pop culture catchphrases and memes, theatrical releases, consumer products, a Tony award-winning Broadway musical and a global fan base. SpongeBob SquarePants is the most widely distributed property in Viacom International Media Networks history, seen in more than 208 countries and territories, translated in 55+ languages, and averaging more than 100 million total viewers every quarter."
Hooray indeed.
We are Scary Mommies, millions of unique women, united by motherhood. We are scary, and we are proud. But Scary Mommies are more than "just" mothers; we are partners (and ex-partners,) daughters, sisters, friends… and we need a space to talk about things other than the kids. So check out our Scary Mommy It's Personal Facebook page. And if your kids are out of diapers and daycare, our Scary Mommy Tweens & Teens Facebook pageis here to help parents survive the tween and teen years (aka, the scariest of them all.)
This article was originally published on