Sports Illustrated's New Body Positive Swimwear Line Made Women 'Burst Into Tears'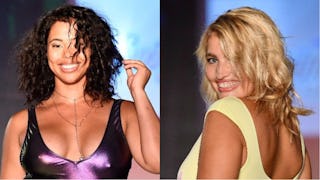 Image via Getty Images/Frazer Harrison
Applause was roaring and people were crying as the models walked down the runway
Any woman that's been swimsuit shopping knows how frustrating it can be. It can literally feel like nothing is made to flatter our figures or fit the average-sized woman. But Sports Illustrated is trying to change all of that with an epic line of bathing suits with several sizes beyond single digits.
The magazine debuted their first-ever swimsuit line at Miami Swim Week on Saturday and made quite the splash. The Sports Illustrated Swim and Active Collection includes high-waisted bikinis, metallic one-pieces, sexy cuts, and floral designs. The best part, many of the women who modeled them were curvy and confident AF.
You can literally hear the crowd break out into loud cheers and applause when the models walk down the catwalk.
"You could hear the roar of the applause as they walked down the runway," MJ Day, the editor of Sports Illustrated Swimsuit, tells TODAY Style.
Additionally, she says several people came up to her after the show, "literally bursting into tears" while thanking her and her staff for including diverse models.
"One girl came up to me after. She was a blogger, and she had just recently lost 100 pounds, and her eyes welled up," Day says. "She just was like … 'I couldn't leave without thanking you and telling you how much this means to me.'"
Of course people lost their minds. They don't typically see anything like this, like them, represented on the runway.
The body-inclusive bathing suits offer women of many sizes the opportunity to wear bad-ass swimwear, a notion that often goes ignored in the fashion industry. The sizes of these suits go from 2 to 20.
This move by SI is proof that if you stop putting women with curvy figures into matronly, outdated swimsuits, they feel good. They may even feel less compelled to sit on the sidelines at the pool or the beach, and instead slay.
It's no surprise that the reaction was so emotional, because this is what women want. We want to see ourselves in swimsuits like these, and we want to rock them.
While this is certainly worth celebrating, the swimsuit industry still has a ways to go as far as including all diverse body types. But we're getting there folks. It truly is a great start towards body inclusivity and perhaps the Sports Illustrated line will inspire other labels to do the same.
The line, produced with RAJ Swim, will be available in early 2018. Prices range from $40 to $160, so go ahead and start saving up–these swimsuits are game changers.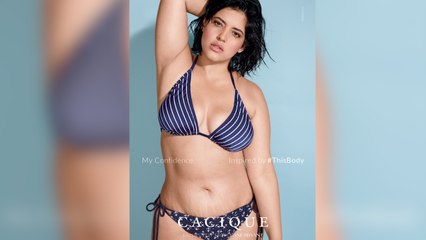 This article was originally published on