This Spotify CPR Playlist Can Literally Help You Save Someone's Life
by Julie Scagell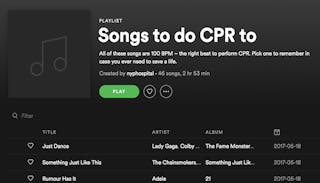 Image via Spotify
Who would've thought ABBA and Missy Elliot could help you save someone's life?
We all know the importance of knowing CPR. It can be the difference between life and death and is something every single person should know. But even if you do know how to give CPR, in an emergency situation it can be difficult to remember the proper procedure. Luckily, almost everyone can remember the beat to their favorite song no matter how urgent a situation, and so a hospital put together a CPR playlist to keep you on track if the situation ever arises.
In a now-viral tweet, reporter Julia Reinstein tweeted about finding the playlist from NewYork-Presbyterian Hospital after going in for CPR training, making it a breeze to stay on point during compressions, which they clearly stole from Michael Scott.
"I learned how to do CPR today so now I know how to save your life," she wrote. "But more importantly I found out New York Presbyterian Hospital maintains a Spotify playlist of songs that are the right beat to time CPR compressions to and it is on point
Cardiopulmonary resuscitation, or CPR, involves giving chest compressions and artificial breath to manually preserve their brain function until further treatment can be administered. Typically, it's given to an individual who may be in cardiac arrest.
According to the Mayo Clinic, if a person is untrained or is rusty on CPR they've learned years prior, they recommend providing hands-only CPR, which means uninterrupted chest compressions of 100 to 120 a minute (for teens and adults) until paramedics arrive.
And what better way to do this than to the tempo of a song that's 100–120 beats per minute, like "Work It" by Missy Elliott.
If you're not a fan of Missy Elliott (which I personally believe should be against the law), you can compress to hits like "Dancing Queen" by ABBA, "MMMBop" by Hanson, "Sorry" by Justin Bieber, and Lady Gaga's "Just Dance."
The whole playlist can be found here and I'm certain you'll be able to find one that suits your fancy.
Obviously, performing CPR is a serious and critically important skill to know. The American Heart Association estimates that 100,000 to 200,000 lives of adults and children could be saved each year if CPR were performed early enough. Since over 70 percent of all cardiac and breathing emergencies occur in the home when a family member is present and available to help a victim, it makes even more sense to take the time to receive training from a professional.
But if you're going to do it, you may as well jam along to your favorite tune while you're at it. Getting those compressions right could be the difference between life and death.