Is Your Face Shinier Than A Twilight Vampire?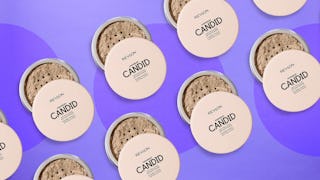 Setting powder is one of those tiny miracle-workers you don't realize how you've lived without it until you've tried it. It's like magic for your makeup: A quick dusting locks in your foundation and concealer so they won't cake up or ripple—or worse, vanish after an hour. When you've spent 20 precious morning minutes perfecting your complexion, what's more heartbreaking than watching your work slowly disappear?
What Even Is Setting Powder?
Essentially, a setting powder holds your makeup. They come in several options: loose or pressed; translucent or tinted. Loose powders are super lightweight and airy and have smaller particles that won't weigh you down, while pressed powders contain binders that add a touch more polish to your overall look. Translucent powders don't add coverage but simply "set" your foundation so you can be confident it won't budge an inch. Tinted powders are opaque and match your skin tone to color-correct any redness and add all-around brightness.
How Do I Use It?
Setting powders should be applied with a flat, shaped brush or powder puff, depending on your personal preference. The key is to apply them before your foundation fully dries so they can ensure long-wearing coverage.
If you've yet to become a setting-powder convert or if you're looking to re-up without spending a small fortune, know that there's an affordable setting powder out there for everyone, whether you have dry or oily skin or some weird combination in between (hello, postpartum us!). From loose, translucent formulas that plump and hydrate the skin to tinted opaque powders that'll stop T-zone shine before it starts, here are the top-rated drugstore setting powders to pick up right now.
Looking for more drugstore beauty finds? We thought you'd never ask.