15 Top Rated Beauty Products That Are Worth Buying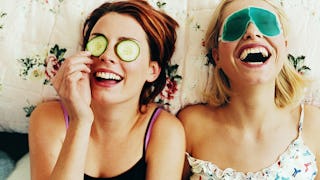 Beauty's in the eye of the beholder, right? So you better be holdin' the right products. From magical micropunctures to a mom-hack that'll make you look like a normal well-rested human (imagine that!), these are some of the all-time best skincare, haircare and make-up products. And keeping them all to ourselves would just make us feel ugly.
Microneedling creates tiny little pricks (not that kind) on your skin's surface. The micropunctures jumpstart the healing process, resulting in plumper, smoother, more even skin, and less lines. Serums and moisturizers also absorb more and do their jobs better. Sure, there's a little pain, but you're a mom. Pain ain't no thang.
French women never wash their faces? We're intrigued. Micellar water on a cotton pad takes off dirt, oil, and make-up, without stripping moisture or leaving a greasy film. You're just left with clean, glowy skin. We haven't washed our faces in years, but if you're not ready to go all in, just use it as eye makeup remover — it's the best we've ever found.
This one has serious street cred. Japan's #1 exfoliator (12 bottles sold every second!) has 1,700+ 5-star Amazon reviews. It's a facial peel, so there's no harsh physical exfoliant. Just let it sit for a minute, then rub your face. The tiny white balls that start to form are actually dead skin sloughing off your face. Gross? Yes. Satisfying? You bet.
This magical potion is the brand's #1 selling product worldwide. In a Marie Claire article, one reviewer claimed her skin was "incredibly smooth," and noticeably "glow-ier." Yes please.
This foot mask doesn't mess around. Three days after we used it, the dead skin and callouses started peeling off — in sheets! It ain't for the squeamish, or those with foot phobias, but holy crap, the results were totally (toe-tally?) insane. Seriously…the softest, smoothest skin we've had since we were babies.
Recommended by doctors, including celebrity dermatologist Dr. Patricia Wexler, who says "Everybody loves it. I've never had a patient who didn't like it." Hydrating, light and invisible.
Don't have time to drink 8 glasses of water a day? This serum will make you look like you did. Hyaluronic acid holds 1,000 times its weight in water, so it moisturizes deep into the layers of the skin. Moisturized skin looks plumper (see ya later, fine lines and wrinkles), softer, and more radiant. Use it under your regular moisturizer to maximize the punch. H2Oh, yeah!
The Cadillac of derma rollers and winner of Allure's Best of Beauty Award in 2017. It's a favorite of Instagram influencer and fellow mom Eva Chen, who chose it for her super edited post-kids skincare routine (her pre-kids routine had 9 steps!). The 540 stainless surgical quality steel .3mm needles actually vibrate for a more thorough microneedling effect. There's also a red LED light to stimulate cell regeneration. Start saving your allowance now.
This hit Amazon beauty product this has 14K 5-star reviews. Says one reviewer, "I've tried and tested every brand, line, product you can possibly think of. My moisturizer is La Prairie my eye cream is La Mer and this $9 clay is the best thing I've ever used or added to my entire skin."
This brush has over 7,500 5-star reviews on Amazon, including one from Scary Mommy's head of studio, Micaela Birmingham. Gets even the thickest hair done to salon standards from dripping wet.
A cult favorite, this is one of the best-selling hair & scalp treatments. This product is not a conditioner, it repairs extremely damaged hair by relinking broken bonds in hair. The hardest part will be finding the 10 minutes it takes to use it.
This seemingly-fancy European drugstore dry shampoo counts on oat milk to sop up excess oils, stinky scents, and post-gym grossness. It's a staple in French pharmacies and gaining serious traction in the United States thanks to a fair price point, gentle formula, no white residue, parabens, or sulfates. The lack of sulfates means it is color-safe and totally okay to pair with your favorite reef-safe sunscreens for your hair.
What's up with this mascara? Why doesn't the name make any sense? Don't know…don't care. Because what we do know is that this crazy-effective brush lifts, curls and covers Every. Single. Lash. And the waterproof formula keeps the curl all day, with no smudging. (Even during a good ol' fashioned ugly-cry in the bathroom. So we've heard.)
Like the Sisterhood's Traveling Pants, this shimmery rose lipgloss' explosive shine looks good on EVERYONE. No matter what your skin tone, this lipgloss will give you the perfect "I totally have my shit together and have definitely showered in the last 3 days" look.
The ultimate mom beauty secret is how to look like you actually got a full night's sleep. (Hahaha…yeah, right.) Using this highlighter is like turning on a light bulb in your skin. Apply directly or mix it with your favorite foundation or moisturizer for that shit-eating "my 10-week-old just slept for 8 hours" glow.
Read More:
7 Actually Tasty Prenatal Vitamins That Are Not Horse Pills
These 'Toy Story' Toys Will Take Your Kid's Imagination To Infinity And Beyond
These Sunscreens For Kids Are Reef-Safe And Smell So Good
Our mom experts only recommend picks they really love. We may earn a commission on purchases made through links from our site, but if we love it, we know you'll love it. And we Scary Mommies gotta stick together.
This article was originally published on