15-Year Wedding Anniversary Gifts That'll Make It Crystal Clear How Much You Love Your Partner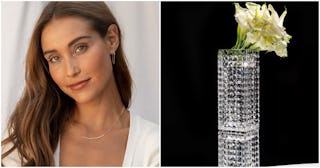 Gorjana/Macy's
If it's time to get your spouse a 15-year anniversary gift, that means you've been putting up with your partner for the past 15 years (and maybe even a few more tacked on from when you were dating). First of all, congrats—what a major milestone! Second, you both deserve a child-free weekend at some point in your near future (romantic cabin getaway anyone?), but until you can sneak that well-earned time off from parenting into your schedule, it's a good idea to exchange gifts to honor this incredible feat.
Traditionally speaking, a 15th wedding anniversary gift usually involves crystal (hello jewelry!), a beautiful material that symbolizes the durability and clarity of your relationship through the decade and beyond you've spent together. The more modern take on the 15th wedding anniversary gift, however, is a timepiece—i.e. a watch, or something that can keep track of time to represent the hours and minutes that have accumulated during your marriage.
Of course, you can very easily break with tradition and go in any direction when it comes to selecting a 15th anniversary gift. The end goal should be to give your partner something that they appreciate and can find useful—whether or not that something reminds them of you.
Here are some of the best 15th anniversary gifts to celebrate this monumental milestone.
Crystal Wedding Anniversary Gift Ideas
Best 15-Year Anniversary Gifts
Looking for more gift inspiration? Check out our gift guides page for more great finds.