Master Adobe's Creative Cloud Programs For Just $34 With This Training Program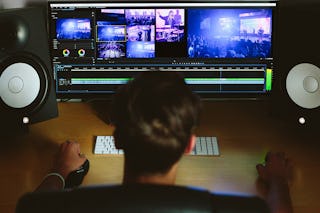 StackCommerce
Being stuck at home over the past year had some silver linings for busy parents who got to ditch commute times and tackle housework during breaks. If you're dreading the impending return to work, it might be time to consider a new career you can do remotely and on your own time. Tons of creative careers accept remote workers, from graphic design to video editing. All you need to start is a certification in relevant software, and the 2021 Complete All-In-On Adobe Creative Cloud Suite Certification Course Bundle covers it all.
The bundle includes 12 courses that will help you develop your skills in software like Premiere, Photoshop, Spark, and more. Each course is taught by a specialist in their respective fields, like highly-rated music producer Tomas George and highly-educated graphic designer Lindsay Marsh.
A career in the digital arts can afford you the flexibility a parent needs to swing by the school with a forgotten lunch box, mid-day breaks to run errands, and even a few days off to chaperone a school trip. In fact, an included Adobe Premiere Rush course will help you master the mobile editing program so you can continue to work right on your phone.
The Complete Adobe Premiere Pro course packs eight hours of lessons that will teach you to import media, create sequences, add graphics, color grade, and audio mix for when you're able to work in front of a computer, too.
Even if you're not interested in a totally new career, honing your skills in Photoshop and After Effects can help you spruce up family photos, work presentations, and even social media pages with totally original images, logos, and graphics.
Accessing the included courses in Premiere, Rush, Spark, After Effects, Illustrator, Lightroom, Photoshop, and XD would typically cost you $2400, but the 2021 Complete All-In-On Adobe Creative Cloud Suite Certification Course Bundle has it all discounted to $33.99 for a limited time.
Prices subject to change.
This article was originally published on