From The BFG To Harry Potter To New Adventure Classics, These Books Will Keep Your Kids Reading (And Their Imaginations Running) #MomProud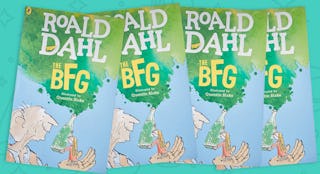 If you and your kids have an incurable sense of adventure, but don't have, say, talking animals or epic journeys available at your fingertips, a good book is your next best option. Reading can transport you to faraway lands, imaginary worlds, or dangerous quests, all from the comfort of your home.
Whether you are reading to the kiddos or they are sneaking some extra reading time under the covers, it will feel good to know that they've caught the book bug. No screens necessary. #MomProud.
Ahead are 15 books for kids and teens that will provide an exciting escape at any age. Once you fill their shelves with these exciting, fantastic, mystical books, they might not even know they're punished next time you send them to their rooms.
Adventure Books for Kids
Adventure Books for Teens
See more great ideas for capturing imaginations with our kids gear picks here.