Simplify Your Life This Summer With This Affordable Smartwatch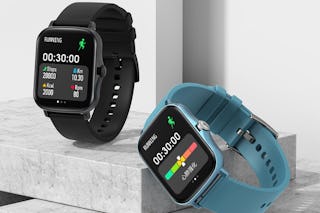 Most moms are intrigued by the smartwatches on the market these days. A watch that doubles as a phone and fitness tracker? It's like having a little personal assistant right on your wrist! Unfortunately, the price tags are usually astronomical. If you've been hoping to snag a smartwatch just in time to help you with your fitness journey before summer officially begins, you're in luck. The C-MAX Chrono-Max Smartwatch is available now for just $59.99 and packed with over a dozen features, just like its more expensive counterparts.
This smartwatch makes busy life just a little bit easier with its 1.69″ full-color touchscreen display, letting you make important executive mom decisions with just a swipe. Need to figure out what the kids are wearing today? Check the weather in seconds. Want to work on your health and fitness more this summer? With a little help from the C-MAX Chrono-Max Smartwatch, you won't have to glare at your partner as he drops pounds with ease. You'll be able to get access to health monitoring on your wrist with just a few taps, checking out step count and health vitals easily. And even though newborn mamas might not want this information, it also offers insight into your sleep.
The C-MAX Chrono-Max Smartwatch also helps you communicate easier, receiving calls, texts, and chats, thanks to alerts that go right to your wrist. Need to take a break from listening to that juicy audiobook when the kids get home? Just give your watch a tap and you can control that, along with music and much more. There are also features like setting and turning off alarms, and even controlling your camera.
If you're worried about comfort, don't be. Despite its impressive touchscreen display, the C-MAX Chrono-Max is comfortable to wear all day. It has a soft and flexible silicone band, and you don't need to worry about it being durable, either. It's IP67-waterproof, and dust-, sweat-, and splash-resistant up to 1m of brief immersion.
Get all the perks of a smartwatch without the hefty price tag with The C-MAX Chrono-Max Smartwatch for just $59.99 today.
This article was originally published on