This Alexa-Enabled Smart Light Is The Lamp of Your Dreams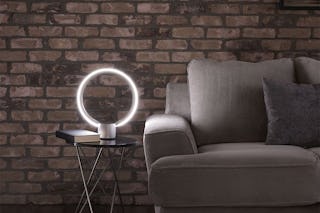 StackCommerce
A Nest at the front door, an Alexa-enabled music player, and a smart refrigerator may have your house feeling like a living space from the future; but if you're still reaching and leaning to turn on a table-top lamp, you may be stuck in the past. Swap your old coffee table or nightstand lamp with this Alexa-Enabled Smart Light to complete the space and take care of just about every ambient command while you kick your feet up or run out the door.
The GE C by GE Sol Smart Light uses WiFi to hook up to your other devices with a built-in Amazon Alexa. The entire thing is cased in a modern and innovative Richard Clarkson-inspired design that fits the interior design of just about any modern or traditional space.
The GE C by GE Sol is designed to fit into your smart home ecosystem, working seamlessly with your other connected devices so you can control lights, fans, and more with voice commands and programming. Two far-field microphones will catch your commands in noisy environments, so you can control the room on a night in while shouting over playing kids or during a busy party— Alexa, dim the lights and play the birthday song.
CNET called the smart light "a surprisingly likable lamp with a distinctive design." That distinctive design is packed with high fidelity speaker sound, eliminating brightness that will light any room, a timer, and clock mode. If you start feeling nostalgic, touch controls are still available too.
Score the full features of Amazon Alexa in this brilliantly designed minimalistic lamp. The GE C by GE Sol Smart Light is $89.99 today, which is 55 percent off.
This article was originally published on