Inaugural Poet Amanda Gorman's Poetry Books Are Quickly Selling Out On Amazon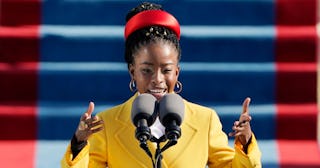 Getty Images/Pool
In only a day, Amanda Gorman has taken the world by storm. After performing at the Presidential Inauguration as the youngest inaugural poet in history on Wednesday morning, she gained billions of fans after the world witnessed her poise and talent. Following her inaugural poem, Gorman received praise from Michelle Obama, Oprah Winfrey, Hilary Clinton, and countless other influential figures. Her books The Hill We Climb: Poems and Change Sings: A Children's Anthem (both of which are not released yet!) began flying off the metaphorical shelves of the internet. At just 22-years-old, Gorman became an instant bestseller.
The Hill We Climb: Poems is a collection of poems written by Gorman, including the poem read at President Biden's Inauguration. Gorman, who is also an activist and the first National Youth Poet Laureate, found inspiration to complete The Hill We Climb after the riot at the Capitol on Jan. 6, according to The New York Times. After struggling for two weeks, she completed the poem that same day.
Gorman's second book is Change Sings: A Children's Anthem, a book of children's poetry that creatively teaches little ones about their impact on the world, showing them that they do have the power to create change. It's bound to be a classic and must-have for your child's book collection.
You can pre-order both of Gorman's books on Amazon and most major booksellers. Both titles are set for official release on Sept. 21. Purchase your copy while you still can!
Supporting Local Bookstores
This article was originally published on