Audible's Best Deal Ever: Students Get 3 Free Months of Membership + 3 Free Audiobooks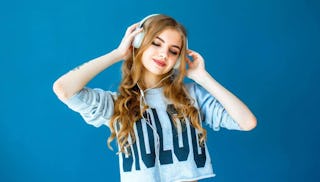 Pexels
Remember being a broke college student? Yeah, so do we. So if you have a college-goer in the same boat, listen up. Amazon is offering a deal on Audible that includes free stuff. Students can snag a free three-month Audible Premium Plus membership — that means FREE instant access to audiobooks, news, guided fitness routines, meditations, and so much more. Plus, they'll get 3 free audiobooks that they can keep forever, even if they don't extend your subscription! Audible makes doing homework, commuting, traveling, cleaning the dorm, and probably like 100 other things sound a whole lot better, in case you didn't know.
As a bonus, new Amazon Prime member sign-ups will receive six months of free Prime access. Heck yeah.
Anyone with a qualifying university email address can take advantage of this promo from now through September 30.
What is Audible?
Audible is a program by Amazon that maintains the largest audio library, featuring a seemingly unlimited collection of audiobooks, spoken-word entertainment, news, wellness content, and more. Millions of users swear by using it on the daily and your kid is about to jump on the trend. Basically, having an Audible account means they can turn their time into something that feels way more entertaining… even if their hands aren't free. (We're talking to you, book schleppers!)
What do you get with the student Audible promo for free?
For 90 days, students can get one audiobook per month (for a total of three) to keep, even after the trial period expires. (FYI, this includes trending titles like Normal People, Open Water, Such a Fun Age, Billie Eilish, and so many more.) They'll also gain access to guided fitness routines, meditations, and daily news from The New York Times, Wall Street Journal, and The Washington Post. Students who sign up as new Prime members will also receive six months of Amazon Prime membership for free … that's long enough to stock their dorm room with snacks and toilet paper to last the rest of the year.
What do you get with an Audible Premium Plus membership?
Anyone who has an Audible Premium Plus monthly membership (aka after the free trial leaves you addicted), will get a credit for one audiobook every month, plus unlimited access to the Audible Plus Catalogue, guided fitness routines and meditations, and access to The New York Times, Wall Street Journal, and The Washington Post. If you want to purchase more, you'll get 30% off each title. And the best part? If you download a book and you aren't really digging it, you can exchange it for free.
Is an Audible Premium Plus membership affordable?
Well, right now it literally couldn't be more affordable. You can access Audible and create your own account for free. But because this is life and good things don't always last forever, you'll eventually have to part with a few dollars every month to keep that free audio content streaming. It will cost $14.95 monthly.
You can hack the Audible free trial.
Listen, we're always thankful for free things but we'd be lying if we said we weren't keeping an eye out for even more free things simultaneously. Here's how to milk the free: Sign up for Amazon Prime before you sign up for your Audible trial, and you'll be able to get six months of Prime membership for free, as well. Don't tell anyone where you heard that.
Still unsure? Perhaps exploring Audible's extensive library of audio titles will tempt you. (It worked for us.)
Although we only recommend picks we really love, we may earn a commission on purchases made through links from our site.
This article was originally published on