Amazon Has Given Us The Ultimate Drugstore Hack Ahead Of Flu Season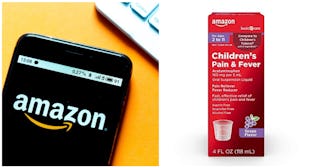 Amazon
Even as states begin to open back up (maybe yours already has, and life almost feels like it's back to "normal"), my IRL shopping habits remain unchanged. I pretty much order everything I need online. I can justify my laziness by knowing I'm helping keep myself and others safe (not all heroes wear capes, ok?). The drugstore has been one of the only places I tend to go in-person, just because ordering through Instacart can be more expensive sometimes, and other options usually involve getting Tylenol in bulk when I just want a regular 'ole bottle. But did you know Amazon basically has its own drugstore? And that you can do all your drugstore shopping on Amazon with your Prime membership and get 2-day free shipping and everything?
Amazon Basic Care offers generic drugstore products, but sold exclusively through Amazon (it's like the Target brand, but in this case, it's Amazon, and the purchasing and shipping process is a million times more easy and efficient). Amazon Basic Care has everything from pain meds, children's meds, feminine hygiene products, sleeping aids, and more. And with flu season coming up, this offers such an easy solution if you *do* need medicine but are too unwell (or are too busy taking care of you sick LOs) to schlep all the way to your local pharmacy for some cold meds. Plus, that way, you avoid spreading germs. (But also, please get your flu shot!)
Here are some of the products Amazon Basic Care sells.
This article was originally published on