This Projector Brings A Dreamy Full Night Sky And Nebula Into Any Room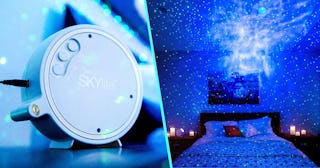 Amazon
Sleep under the night sky with this laser projector
If you're not quite done with your holiday shopping yet (or, ahem, haven't started), this is definitely an item to check out for kids of all ages on your list.
Amazon is selling a BlissLights Sky Lite Laser Projector which allows you to bring the outdoors, in. The projector lights up your ceiling with drifting stars against a blue nebula cloud, giving you just one more reason to stay in bed forever (as if you needed one). The lights give off a very real experience as if you're camping and staring into the night sky, without the bugs and hassle of actually going camping.
"Enjoy dining under the stars, create a relaxing spa environment, or accent your home theater in seconds; the SKYlite is an instant game changer for any room in the house," Amazon said in their description. "Simple button controls make it easy to cycle through light effects, adjust brightness, or start/stop the rotating motion."
This would be perfect for a kid's room to lull them to sleep or for adults looking to ditch the light of their phones at night in lieu of something much more relaxing. The projector is now just $50 and available for free shipping if you're a Prime member, which is a small price to pay for transforming your indoors into the outdoors.
"BlissLights uses only the highest quality lasers and superior holographics, the same energy efficient technology found in theme park lighting," the description continues. The picture below gives you a sense that you could really use the projector in any room. How fun would it be to have a romantic dinner at home under the night sky — you know, if you can tie your kids down or bribe them with ice cream if they leave you alone for 15 minutes.
It would also be fantastic to bring into the bathroom for a spa-like bath experience. That, a book, and a glass of wine would almost be enough to make the holiday season a peaceful one. If your family doesn't allow that amount of me-time, you could always bring it into the closet with you when you lock yourself away from the kids for some goddamn peace and quiet. It may not be ideal, but it'll do.
The projector also has a ton of 5-star ratings, with one woman saying she's addicted to it. "If I'm going to spend a significant amount of time in a room I'll bring it with me. It's great for really anything, even watching tv or enjoying a magical bath. It's quite beautiful and relaxing," the reviewer said. Another said, "I got it as a gift and really like it. You can choose between stars and clouds, only stars or only clouds. You can stop it moving. Great as a background light, while watching a movie."
Thank you, Amazon, for making holiday shopping so easy.
This article was originally published on