There's A Christmas Lights Phone Charger And Obviously You Need It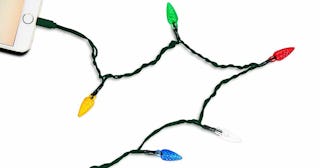 Amazon
A Christmas lights phone charger is sure to light up the holidays
Halloween is right around the corner which means it's time to decorate for Christmas — and I mean every square inch of our homes and all that we own. The holidays only come once a year and it's a time to get festive and put stocking and reindeer and lights all over the damn place, and thanks to Amazon, now we can even decorate our phones.
Amazon is the one-stop-shop for all home goods, office supplies, and unnecessary drunk purchases, so of course, they're the first stop when it comes to holiday decor. This year, they're selling Christmas lights phone chargers and they're just as adorable as you'd expect. The Yage Tale LED Christmas Phone Charger is the accessory we all need to keep those bells jingling even when we're doing something as mundane as charging our devices.
According to the description, the phone charger cord is 50 inches long and comes with ten LED multicolored lights that will illuminate when in use. This would be a perfect addition to any office, home, or to take out to bars with you. It says, "I'm festive and shit but also like to keep my battery at 100%."
If holiday lights aren't your cup of tea, check out this Two's Company flamingo phone charger. It would be virtually impossible to have a bad day at the office whilst looking at a bunch of light-up flamingos.
If you're not an iPhone user, this just isn't your day because the Christmas lights charger is only compatible with iPhones, so Android users will look much less blingy this holiday season. At only $15 a pop, these would be a perfect stocking stuffer because let's be honest, it's so adorable we'll probably use it all year round.
If you're more of a "white lights only" type person, they also sell super cute white-lit trees. which would make working into the wee hours of the night a lot more bearable and at only $12, it's not only aesthetically pleasing, it's an affordable way to keep charged up during all those late-night online holiday shopping sprees.
With so many Christmas tree decorations and ornaments, it's nice to have something designed entirely for our phones, given the amount of time we spend on them. Sure, there are a million phone cases, but having something to dress our naked cords is genius. Pair it with a nice space heater, mug warmer, and some soothing holiday music playing from the speakers, and it makes working as enjoyable as work can possibly be.
This article was originally published on