What A Nutritionist Mom Buys For Dinner From Amazon Fresh (Hello Free And Fast Delivery)
by Jessica Waller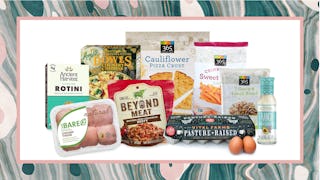 Even as a nutritionist, I feel like there should be a college-level course on how to effectively feed a family. With discerning tastes (ahem, picky toddlers), ever-changing dietary needs, crazy work/life schedules and new research daily on what's actually "healthy," preparing a dinner your crew will actually eat can be complicated, to say the least. But at least the grocery shopping part of things is getting easier, thanks to more accessible food delivery services like Amazon Fresh. When you can't make it to the store after work (or are just choosing on principle not to drag your toddler and 6-month-old who just learned how to scream—no thx!), now you can shop straight from your phone—and get it delivered within two hours later. BLESS.
The best news? Amazon Fresh is now a FREE benefit for Prime members (it used to cost $14.99/month). There are more than 2000 cities/regions where you can access Amazon Fresh—with more being added every day, and 2-hour shipping is free on orders over $35 ($50 for New York). Not a Prime Member? Sign up for a free trial here. You won't believe some of the deals you'll have access to (as low as 25 cents!).
Whether you're already a pro at meal planning and prepping or just trying to make it through till the weekend (we feel you!), with a few nutrient-dense items in regular rotation, weeknight dinners become much easier to put together. Here's a look at what I stock up on at Amazon Fresh to get my family of four through a busy week. When you needed dinner on the table 10 minutes ago, these nutritionist- and mom-approved handy hacks will have your back.
Here are even more kitchen hacks you need to know for making meal time, and life, easier.