This Humidifier Has Near-Perfect Ratings On Amazon, And It's Saving My Dry AF Skin This Winter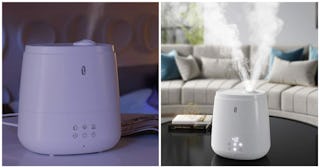 Amazon
Fall might bring crisp weather and all things pumpkin spice, but along with it comes dry weather that leaves skin zombie-parched. Fall and winter is when my bottles of lotion go into overdrive, and when I'm not slathering lotion on my calves, elbows, heels, and hands, I'm chugging water in hopes of it giving me the hydration I just can't get enough of. Last winter, I made a game-changing move though: I bought a small humidifier for my bedroom that sat on my bedside table and released a soothing mist of vapor while I slept.
I'd wake up and genuinely feel the difference. My face didn't feel so pinched when making facial expressions (mostly at my phone, seeing how many emails I'd already received), my lips weren't chapped, and my throat wasn't dry. A humidifier to add much-needed moisture in my life! What a revelation!
This year, I upgraded to a larger humidifier, because I was not messing around. Instead of investing in three jumbo-sized bottles of body lotion, I bought a remote-controlled humidifier that, unlike my smaller one, emitted vapor all night long. TaoTronics' warm and cool mist humidifier holds a lot more water in its tank (up to 6L) than most, which means it has more power and gives us a lot more humidity. Especially when you live in a *super* dry place (where it gets so bad you get nose bleeds and literally cracked lips — this was me back when I lived in Minnesota), this purchase is a necessity.
Providing warm and cool mist, you can choose if you want the mist to last longer (with the cool setting) or come out faster (with the warm setting). Perfect for your bedroom, your kids' room or nursery, this humidifier automatically optimizes to provide the most ideal level of humidity in the room (55-65%) based on your environment. It'll also turn off when it's reached the perfect level, making it more energy- and resource-efficient (no need to waste electricity or water, ya know?). And like I said, it comes with a remote control, so you can change the settings (3 mist levels and 3 mist temps, along with humidity levels, timer, sleep mode, and auto mode) from bed (#lazygirllife).
Aside from how it makes my body feel, I also love that it's quiet but also emits a subtle, soothing noise that puts me right to sleep. I'm hydrated and well-rested — what more could a girl want? I also use lavender essential oils (this is my favorite brand) so that my bedroom feels and smells like a spa.
With near-perfect reviews, Amazon shows other happy reviewers feel the same way as me. "This is a very simple, beautiful humidifier. I love that this doesn't scream humidifier like so many other options do. It's very easy to use with just the simple push of a button. Cleaning is fast and easy too. If you enjoy diffusing oils, there's a spot in the back for you to add your oil of choice. It worked beautifully, and I foresee us using this frequently (asthma, family allergies, etc). Overall, I'm very pleased with this humidifier and plan on purchasing more for our family," one customer wrote.
Another person wrote, "I love this humidifier, I just ordered a second one since they're so inexpensive. It the easiest to fill of any I've ever owned, all I do is fill a pitcher with water and pour it into the top and it starts back up. It makes no noise at all. You can even add some scene through a little wood pad down below if you want scented mist. I would recommend to anyone! So far I'm really impressed, which I wasn't expecting to be, having bought humidifiers costing $200 before."
And cleaning it is super simple (just a PSA: *Always* remember to clean your humidifier regularly, otherwise it can build up mold).
This article was originally published on