Amazon Devices Are Already On Mega Sale Even Though It's Not Prime Day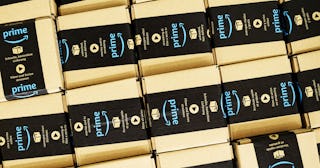 Leon Neal/Getty
While Amazon has kept things pretty hush-hush about Prime Day in October 2020, it's no secret that this year's big sale falls on June 21-22, 2021. Last year, before the official shopping spree began, they quietly discounted 38 early. Devices like the Echo Dot, Fire HD 10, and Ring went on sale early like some kind of prelude to Prime Day.
Will they do it again this year? No one knows. But keep an eye on this page because we'll keep it current with up-to-the-minute sales information so you can score the biggest discounts!
Editor's note: The deals below are not updated yet for Prime Day 2021, but stay tuned — and bookmark this page — for the very best deals on June 21-22!
Why did Amazon Prime Day get delayed last year?
In late July, Amazon announced that Prime Day was definitely getting delayed, per The Verge. Prime Day was ultimately delayed due to COVID-19. Amazon most likely didn't have the capacity to carry out Prime Day while also keeping their employees safe. Plus, everyone turned to Amazon when staples like toilet paper started running out at Target and grocery stores, overwhelming Amazon warehouses. An Amazon spokesperson told The Verge, "This year we'll be holding Prime Day later than usual, while ensuring the safety of our employees and supporting our customers and selling partners."
When is Amazon Prime Day 2021?
Monday and Tuesday, June 21-22, 2021. Mark your calendars — and bookmark this page!
Like we said, we'll be watching Amazon Prime Day (and deals) like a hawk (collectively speaking), so maybe bookmark the rest of our Amazon Prime Day coverage. 😉
This article was originally published on