These Sound Machines With Almost 40,000 Reviews Sold Like Hot Cakes Today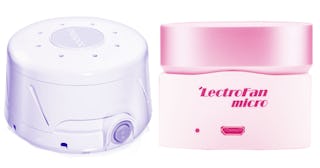 Prime Day is just revving up, but we're starting to wind down after a long day of shopping. The one item we can't live without when the lights go out? A white noise sound machine. And luckily, Amazon is running some of the best white noise and sound machines at a major discount today.
Even though these gadgets may not appear to be too glamorous, plenty of stars like Eva Mendes use white noise machines to enhance relaxation aka get better beauty sleep. Now is the time to snatch up a sound machine while the sales are so real. Here are the best options you can buy on Amazon before Prime Day is over.
Take this micro noise machine just about anywhere.
It's a classic that offers fan sounds or white noises.
This is the original white noise machine.
It offers six relaxing and soothing nature sounds.
Read More:
We Will Be Your Shopping Assistants For Prime Day 2019
These Are The Amazon Prime Day Deals Of 2019 Moms Are Going Crazy For
Prime Day Tech Deals Are No Joke And We're Finding All Of Them
Our mom experts only recommend picks they really love. We may earn a commission on purchases made through links from our site, but if we love it, we know you'll love it. And we Scary Mommies gotta stick together.
This article was originally published on