It's Raining Amazon Prime Day Deals And These Are Our Favorites For Moms
by Dana Baardsen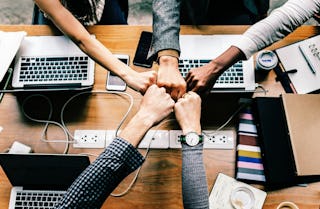 Pexels
UPDATED: July 16, 2019 – 1:50 p.m. EST
The one thing moms like more than their own children are great freaking deals. From household essentials like paper towels to tools, makeup, and more, we're sussing out this whole Amazon Prime Day thing to find the best deals moms will really love. Check out our top picks:
Beauty Deals for Mom
New hair, who dis? Well, maybe not new hair, but no one will be able to tell the difference after you style your locks with the CHI G2 Ceramic and Titanium 1 ¼" Straightening Hairstyling Iron on sale Prime Day only for $97.99 or the CHI Original Ceramic 1" Straightening Hairstyling Iron with Iron Guard Thermal Protection Spray on sale Prime Day only for $109.19. Get the CHI G2 here and the CHI Original here.
Speaking of hair, the crowd-pleasing detangling brush Wet Brush is 30% off.
While you're at it, may as well go full-blown makeover, and COVERGIRL is here to help. On COVERGIRL's Prime Day landing page, you'll find 260 products on sale, including 50% off deals.
Mario Badescu Facial Spray Rosewater and Green Tea Combo is on sale for $14 for 4 fl. oz. and $24 for 8 fl. oz.
Time to touch up those roots, or maybe try something totally new? Clairol is offering 30%-50% off everything, from Nice'n Easy Color Care to Root Touch Up Color Blending Gel and Root Touch Up Color Refreshing Spray.
You'll smell amazing with this Vera Wang Embrace Periwinkle & Iris eau de toilette spray (1 fl. oz.). This romantic perfume is available on a lightning deal for 46% off.
Wrinkle Schminkles wants us mamas to have the best skin, and we're here for it. The brand is offering $10 off all Smoothing Kits (for chest, forehead, eyes, mouth, neck and those busy hands); $10 off the Morning After Glow Serum; $5 off the new InfuseFast Decolletage Sheet Mask; and $15 2-pack Bundles (originally $45.95).
Self care is more about makeup and hair—it's about taking care of your insides too. All Fusion Naturals products are 20% off, including Vegan Collagen Booster, Metabolism+, Brain+ and more.
Trophy Skin wants you to maintain that pregnancy glow even when you're not with child. The MicroDerm Microdermabrasion Kit (originally $299) and all other Trophy Skin products are 20% off.
Fashion Deals for Mom
Bali Shapewear Bodybriefer doesn't change your size or shape, it just smooths everything out so you can show off all your sexy mama curves. And now it's 70% off (now $18.89 was $26.99-$36.99)
If you're a multi-tasking mama (just kidding—we know ALL mamas are constantly multi-tasking), you may like this Multitasking Cardigan from goodbody goodmommy on sale for Prime Day for $49 (originally $59). It's flowy and roomy and great for breastfeeding, baby-wearing, pumping, and—get this—it has pockets!
Select styles of Lucky Brand Mid-rise Jeans will have you feeling like your best self — 56% off on Monday.
Get yourself some new sneakers with New Balance, which has many options 40% off.
Nothing feels better than a new sports bra (well, besides taking that and every other sports bra off at the end of the day). Starter is offering 30% off select women's styles on Prime Days.
For the mama-to-be: just because you're squeezing out a human at the hospital doesn't mean you need to wear the hideous gown they give you. Look your best with one of these cute options from GiftGowns, 15% off on Prime Days.
Prime Pantry Deals
Mama need a cup of coffee? Mama always need a cup of coffee. Woken Coffee is offering 5% off Arabica blend, and unlike most K-cups, these are fully compostable, making them compatible with home espresso machines and the environment.
Meli's Monster Cookies are a gluten-free cookie mom-ster's dream, but dream no more: all Meli's cookies are 40% off for Prime Days.
For the mom who wants the wine without the headache—wait a minute, that's ALL moms—The Wand by PureWine (which removes histamines and sulfite preservatives, aka headache causers) is on sale for $11.99 for a three-pack.
Self-Care Savings
Don't just look proudly at the scale — let it tell you how to live your best life through an app. The Greater Good Smart Connected Body Fat Scale is 22% off ($10.87).
This Bluetooth Sleeping Eye Mask will help you rest like the queen you are for $19.88.
And since oral hygiene is life, spring for the either the Waterpik Cordless Water Flosser Rechargeable Portable Oral Irrigator (10 off) or the Phillips Sonicare HealthyWhite + Electric Rechargeable Toothbrush which is less of a spring during Prime Days at 59% off.
Get your alkaline water on by dropping an Alkaline Water Infuser from GoFiltr in your water bottle. Speaking of dropping, they've dropped the price by almost 10%.
Looking to tone it up? Look no further. The entire Tone It Up product suite is 30% off from protein powders to bites and bars.
With kids around, you may feel like you and your home are never clean, but you can actually be clean in an eco-friendly way with Elyptol's natural botanical sanitizing products, 30% off both Prime Days.
Deals for the Home
Lacoste has lots of items 50% off or more.
Why clean when you can have a robot vacuum do it for you? The iRobot Roomba 690 with Wi-Fi connectivity is 39% off for $229.
Life's too short to use a regular sponge. Instead, try Teal Trunk's Silicone Sponge and Scrubber Multipurpose, 25% off (originally $14.89).
There are not many things more satisfying than a clean home, and just powerwashing in general. Get the Sun Joe SPX2598 2000 PSI for $92.14.
Two words: pool day. Get a sitter, mix a marg and float around your pool in a 48" glitter tube, on sale by PoolCandy for $24.84.
Because sometimes standing up feels just as good as sitting, you can get a FlexiSpot M3B Standing Desk – 47″ Wide Platform Stand Up Desk Riser for 40% (now $208.60).
This adorable Picnic Time Country Picnic Basket is perfect for some alone time in the park (or non-alone time with your family). It's $30.99 for Prime Days.
DIY Deals
Fancy yourself a crafty mom? The Cricut Explore Air 2 Bundle with Basic Tool Set is on sale for $199.99 (31% off).
Capture every single special moment—and print it out right away—with the Polaroid Pop 2.0 2 in 1 Wireless Portable Printer & Digital Camera on sale for 30% (originally $199.00).
Bookmark this page so you don't miss out on our favorite Amazon Prime Day deals of 2019. We'll be live reporting on the biggest price cuts. Plus, sign up for Amazon Prime so you can take advantage of the best Amazon Prime Day deals of 2019!
Read More:
We Are Your Shopping Assistants For Amazon Prime Day 2019
These Prime Day Deals Will Trick You Into Thinking You Can Afford Another Baby
Amazon Prime Day Tech Deals Are No Joke And We're Finding All Of Them
Our mom experts only recommend picks they really love. We may earn a commission on purchases made through links from our site, but if we love it, we know you'll love it. And we Scary Mommies gotta stick together.
This article was originally published on