Why Does Anyone Use Anything Other Than Amazon Prime Pantry To Shop For Groceries?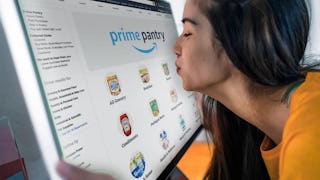 Amazon Prime Day 2020 has been announced, and it's starting October 13 and ending on the 14th this year. We're expecting tons of great deals, and have already started shopping pre-deals for Prime Day (and they're GOOD). More deals we're expecting are for Amazon Prime Pantry. Stay tuned for upcoming deals and discounts. If you haven't used Prime Pantry yet, let us walk you through its glory.
It's everything we love about Amazon — thousands of products delivered in just a few days, and the ability to shop braless and pantsless from our couch — for everyday essentials like groceries and household stuff. It's a convenience store that's actually convenient, because it's not a store.
Cool…but that's basically just Amazon, right? Shop online for shit that we need, and get it delivered. So what's the big deal? Here it is: With Prime Pantry, unlike regular Amazon, you can buy single items, and not be locked into a giant 24-pack of hand soap that will take you about 3 years to go through.
Pretty much anything that comes in a bag, can, bottle, or jar is available. Groceries, snacks, beauty, household cleaners, etc. They even have tons of organic stuff, if that's your thing, with Whole Foods' 365 Everyday Value brand.
If you're a Prime member and you spend $35 on your order (ummm, yeah…that won't be a problem), shipping is free. ($5.99 for non-Prime members.) Plus, there's a "deals" page that highlights the biggest savings and best values. And nothing gets me going like a good deal!
Speaking of which, you can get $10 off your first Amazon Prime Pantry order of $40 or more right now, with the code WELCOME10. The offer ends on 11/16. If you are already a member you can get up to 15% off your Prime Pantry Order and there are always other deals happening so see current ones at www.amazon.com/pantry/deals
Check it out:
This article was originally published on