This $618 American Sign Language Training Has Been Discounted Under $35 Today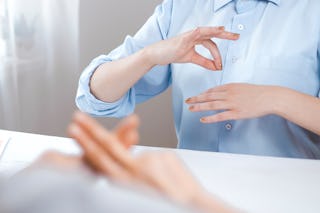 StackCommerce
Wearing a mask during the past year may have made you more aware of the struggles that people with impaired hearing face daily. Listening to a muffled voice is difficult at best and requires a more visual way to communicate. Tackle the issue by learning some simple words and phrases in American Sign Language and after completing the courses in this bundle, be prepared to communicate without needing the use of your ears at all.
RELATED: Start Communicating With Your Baby Using These Easy Baby Sign Language Tips
The All-in-One American Sign Language Bundle is a 13-course package that caters to beginners with super-focused courses in various areas of language. The entire bundle is taught by highly-rated instructors like Intellezy Trainers who use online videos and references to teach you quickly and easily.
Two beginner-level courses will set you up for success in this bundle: one for ASL beginners and another for ASL beginners in business. The business-focused course will expand on vocabulary associated with workplace terminologies such as signs for greetings and common technology so you can boost your resume with the skills to communicate with deaf co-workers and customers.
One of the perks of education from Intellezy Trainers is the speed at which you can walk away with a new skill. In the included Tom Loves Ruth course, for example, just one hour of instruction will have you combining vocabulary signs with fingerspelled names to form complete sentences while you learn through the narrative of a story.
The speedy courses in this ASL bundle have become favorites of students, like the Family and Adjectives course that earned an impressive 4.9-star rating, or the Colors and Nouns course that earned a perfect five-star review for its lessons in possessive pronouns, adjectives, and more.
Kickstart your knowledge of American Sign Language and boost your communication with the deaf community, and essentially anyone, while wearing a mask is recommended. The 13-course All-in-One American Sign Language Bundle is typically priced at $618, but for a limited time, you can score the entire thing at a 94% discount for $34.99.
Prices subject to change.
This article was originally published on