Chill Out With These Pop Fidget Anti-Stress Pads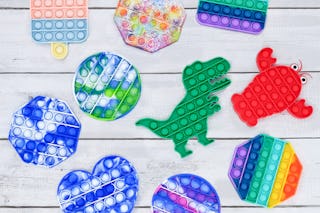 StackCommerce
It's 2021, and we're all stressed out! As many of us continue to be the decision-makers of our households during a global pandemic, simultaneously working from home, keeping groceries stocked, managing online school and watching little ones, we could all use whatever stress-relieving magic we can get these days. And though the kids might have forgotten all about the wonders of fidget spinners, Pop Fidget Anti-Stress Pads are here to help reduce our anxiety as we get through the day.
With a seriously impressive 4.7 out of 5 stars on Amazon, these Pop Fidget Anti-Stress Pads are multipurpose, working as stress relievers, anxiety reducers, and toys for both kids and adults, alike. And though they usually retail for $39, they're available now at 60% off for just $15.99.
They are sensory tools and ideal for boosting your mood, keeping you calm as you stay focused and helping you pass the time. And, aside from getting you through this crazy year, they also have the added benefit of improving your brain power! Their small, compact size makes them easy to carry anywhere, and this particular pack is animal themed, so you'll get a fun red lobster and green dinosaur to help you chill out when needed.
These fidget pads are super easy to use, and are appropriate for kids three years old and up, so don't be surprised if your little one tries to steal yours. Thankfully, this two-pack means there's one to share! You can rest assured that they're safe, as they are made of high-quality silicone, and are kid-friendly, durable, squishy, and comfortable to play with.
Get Pop Fidget Anti-Stress Pads for yourself or a loved one who could use a little less stress in their life. They're available now for just $15.99 for a limited time.
Prices subject to change.
This article was originally published on