AOC Is Getting Her Own Action Figure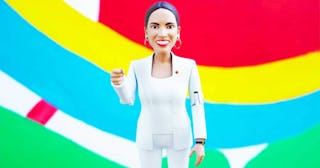 FCTRY/Kickstarter
The desk decor you've been missing in your life? An AOC action figure
If there's a space on your desk that feels a little empty, we have the perfect thing to fill it. It'll inspire you every day, serve as a role model, and remind you that things in this country are not a complete dumpster fire, as much as they feel like it at literally all times these days. Yes, that's right, it's an AOC action figure.
"There's a new force in the Democratic Party. Alexandria Ocasio-Cortez has been called a game changer, a radical, a firebrand. But mostly people just call her AOC," reads the product description for the action figure of a person who is basically a real-life action figure.
Brooklyn-based product design studio FCTRY ran an extremely successful Kickstarter campaign to fund initial production of the action figure, and raised nearly $40,000 — a solid $25,000 over their initial goal of just $15,000. Around 1,300 people have backed the project so far, which means at least 1,300 people are about to be proud owners of their very own AOC actions figures. And you can still join them and get one of your very own. There's 28 days left on the campaign, which means you have 28 days to claim your own action figure as a perk for donating $20 or more.
There's also a bunch of other perks if you donated above the $20 threshold it takes to get your own action figure sent to you. It turns out that FCTRY has already made a bunch of other action figures we kind of need in our lives, modeled after other progressive figures in politics.
Like, you can donate $40 and get a set of an AOC action figure and a Bernie Sanders action figure, if you're into that.
Or, you can take that $40 donation and choose another (much better) option: A package deal that includes and AOC action figure and an Elizabeth Warren action figure. Your desk has never seen such lady power and it is good.
If you have a little more money to burn or you want to be a true collector, you can contribute $100 to FCTRY's cause to get what they call the collector's set: AOC, Sanders, and Warren, plus Justice Ruth Bader Ginsburg, former President Barack Obama, and New York Senator and presidential hopeful Kamala Harris.
BRB, searching the couch cushions for $100 worth of loose change.
FCTRY's action figures are an ongoing collaboration between the firm and Mike Leavitt, a Seattle-based artist who helps design all the figures.
"We try to align each action figure with a social mission that matches the values of its real-life counterpart," the wrote. "If this project gets funded, we plan to align AOC's figure with the Sunrise Movement—a grassroots organization that works alongside the real AOC, championing the Green New Deal."
Well, the project got funded and then some. We can't wait to get our hands on an AOC action figure, and it's even better knowing our money will be helping make the world better, too.
This article was originally published on