Learn A New Language On Your Own Time While Babbel is 60% Off
by Scary Mommy Team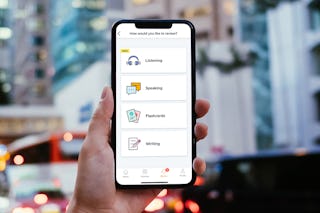 StackCommerce
If you've attempted learning a new language only to give up a few weeks later with a measly vocabulary of a handful of new words, you might be putting too much pressure on yourself. Sitting through courses doesn't fit easily into a busy lifestyle with a full-time job and kids, and courses with no time limitations are your best bet for success.
The Babbel Language Learning app comes with a lifetime subscription to learn one (or 14) languages at your own speed, whenever you have the time or interest. The app has tons of positive reviews like Maria's: "It's easy to use (I like the little listening comprehension stories – they have a knack to make you proud you understood THAT) and offers the chance to learn various languages at once…"
Babbel offers lifetime access to learn Spanish, French, Italian, German, Portuguese, Swedish, Dutch, Turkish, Polish, Indonesian, Norwegian, Danish, Russian, and English at your own pace. The lessons come in quick 15-minute sets that you can knock out while you're parked waiting in the carpool line or right before bed. The app synchronizes across devices so you can take care of a lesson on your phone while you're out and pick it up again later when you're back home.
Babbel earned a 4.6-star rating in the App Store for features like its speech-recognition technology and personalized reviews that help you perfect your pronunciation and comprehension of the lessons. See what the hype is about without paying the price. For a limited time, you can get lifetime access to the Babbel Language Learning app's 14 languages at a 60% discount, a final price of $199, or get a 2-pack of lifetime subscriptions for $358.
Prices subject to change.
This article was originally published on