Open Up a Whole New World by Mastering ASL with Help From This Bundle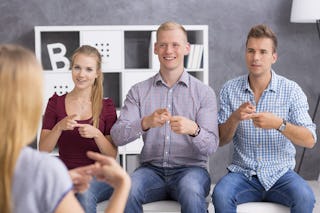 StackCommerce
Despite their adorable size and that intoxicating new baby smell, the baby phase is rough. From late night feedings to endless diaper changes and teething, that first year comes with plenty of challenges. Most of those stem from your little one not being able to communicate. Since teaching a baby to talk is a challenge, why not meet them halfway with American Sign Language? This communication method is great not only for attempting to understand babies, but also opens up a whole new world to the culture of the hearing-impaired as well. And right now The Ultimate Learn to Sign Language Certification Bundle is ready to school you on the ins and outs of sign language for just $19.95.
RELATED: Start Communicating With Your Baby Using These Easy Baby Sign Language Tips
You'll get access to 21 informative courses with this bundle, all geared toward getting you up to speed on American Sign Language in a simple, yet super effective way. Able Lingo, created by TESOL and TEFL certified Michael Honaken, walks you through each course and has an impressive 4.8 out of 5-star instructor rating. Michael worked as a police officer and federal investigator, which introduced him to the world of ASL as he communicated with people ranging from witnesses, to victims and the perpetrators themselves.
Start with the alphabet with ASL: The Manual Alphabet. This course, which scored a 4.9 out of 5-star rating with students, teaches you the American Sign Language alphabet with step-by-step instruction, fingerspelling practice and useful recognition exercises that will help you not only learn, but retain the alphabet. Then, since all moms could use another way to talk to both babies and bigger kids, ASL: Parent and Child Phrases will teach you the essentials needed to navigate the usual mom and kiddo lingo. This course earned the rare 5 out of 5 stars from students, so you know the information will prove very useful.
There are lots of other 5 out of 5-star-rated courses included as well! ASL: Food Vocab and Dialogues teaches you plenty of food vocabulary, verbs and pronouns, while ASL: Occupations and Dialogues and ASL: Countries and Sentences and over a dozen other courses help widen your vocab so you are fluent in ASL.
Mastering American Sign Language can help you in many areas of life, and if you're ready to be fluent you can snag The Ultimate Learn to Sign Language Certification Bundle now for just $19.99.
Prices subject to change.
This article was originally published on