43 Bachelorette Gift Ideas (NSFW Warning!)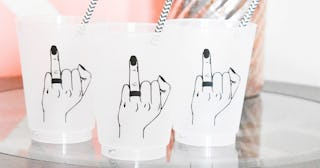 Etsy
Bachelorette gifts can be tough to shop for. You've already got the wedding gift to worry about, and you likely already bought her an engagement gift. What do you get her (if you're not already pitching in by throwing her a bachelorette party that is)? Weddings are special but they're also lot of work, so when it comes time to celebrate the bachelorette, you want to make sure you get her a gift that is truly special. We're talking about something that yes, the future couple can enjoy together, but is mainly for the bride-to-be (happy wife happy life, as the saying goes). Whether she's into beauty products, perfecting her skills in the kitchen, or just wants to start her marriage with a smile, there are no shortage of options. From thoughtful to personalized to funny, here are 43 bachelorette gift ideas any future bride will love.
Bachelorette Party Gifts
It depends on what kind of party you're going to, but a lot of bachelorette parties can get pretty wild and are mainly centered around dirty jokes and raunchiness. You can get a gift that's totally meant to be a gag gift (also see our funny bachelorette gift suggestions) or something sexy she'll use later in the bedroom!
Funny Bachelorette Gifts
Thoughtful Bachelorette Gifts
RELATED: How To Make Ahhhh-Mazing Bath Bombs For Gifts… Or Your Own Spa Days!
Personalized Bachelorette Gifts
For more thoughtful gift ideas, check out our other Gift Guides.