Start Your Back to School Shopping With Deals From The Zappos Sale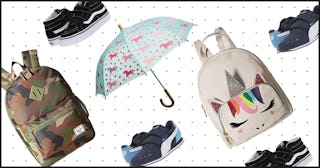 Can it POSSIBLY be time to start shopping for back to school? Holy crap, time flies, especially when you're wearing flip-flops and toasting s'mores. But, it's time to shift gears into BTS mode, Mama, because sales are starting to spring up NOW. Grab these amazing deals from Zappos and get an additional 20% OFF with code: BDAY20 before the sale is over on Sunday! (Prices below reflect additional savings.)
Save the universe and carry your homework at the same time.
35% OFF (was $44)
This unicorn has totally got your back.
28% OFF (was $40)
Blend in with all the cool kids in this camo-covered backpack.
24% OFF (was $39.99)
Vans and Disney team up to celebrate Mickey's 90th anniversary! Wow, he looks great for 90! (Wonder what eye cream he's using…)
33% OFF (was $48)
These sturdy canvas and suede uppers have dual hook-and-loop closure for easy on and off.
30% OFF (was $40)
Nylon mesh upper with suede overlay looks super cool and fit great.
43% OFF (was $35)
Cute, comfortable, and breathable fabric lets your kid glide through the day in these.
41% OFF (was $49.95)
We wish these shimmery shoes came in our size too!
28% OFF (was $40)
Let them transition from hot to cooler weather in these comfy pants.
41% OFF (was $40)
Rough and tumble jeans for your little rough tumblers.
60% OFF (was $49.95)
This sporty and relaxed fit t-shirt dress drapes the body with an easy pullover styling.
45% OFF (was $45)
Print changes color in the rain! Who needs cats and dogs weather when you can have raining unicorns over your head every day!
28% OFF (was $20)
Our mom experts only recommend picks they really love. We may earn a commission on purchases made through links from our site, but if we love it, we know you'll love it. And we Scary Mommies gotta stick together.
This article was originally published on