These Patented Lavender-Infused Sheets are 40% Off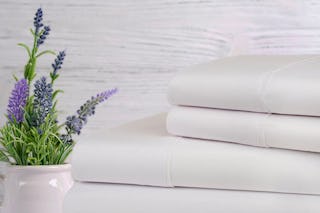 StackCommerce
Some nights you wind up crashing on your kid's mattress built for a 60-pound body, and other nights you find yourself rising before the sun comes up to squeeze in anything you need to do before the rest of the family wakes up. For these reasons and tons more, it's important to make the moments you sleep peacefully in your own bed as restful as possible, and this relaxing Bamboo 4-Piece Lavender-Scented Sheet Set could do the trick.
There are a lot of features at play in this lavender-infused sheet set to get you cozy, like their bamboo material, as well as their hypoallergenic and antibacterial properties. The set's technology is patented, and can add a much-needed element of calm to wind down your day for a solid night of sleep. One five-star reviewer wrote, "These sheets are wonderful, so very soft and they smell heavenly! Nowhere else can you buy 1800-thread count sheets that smell like lavender!"
If you're not an aromatherapy buff, you might be surprised to learn that lavender is used to improve sleep with properties that can reduce stress and anxiety. Lavender is also used to soothe blemishes, making pressing your face against a lavender-infused pillowcase even more enticing than face-planting into a pillow already is.
Lavender is also known to help with improving respiration, which is an added bonus on top of the set's bamboo-blended microfiber material that resists mildew and mold development with antibacterial properties. They're also hypoallergenic to help you sleep soundly without interruption from allergy-inducing particles.
Taking care of the four-piece sheet set isn't any different than your other sheets either — in fact, it may be easier. They're machine-washable and wrinkle-resistant, so leaving them in the dryer while you finish up bath time won't ruin your crisp, clean sheets. Score your set with a lavender-infused fitted sheet, flat sheet, and two pillowcases while a queen-sized set is 40% off at $35.99.
This article was originally published on