Bed, Bath & Beyond Has A New Kids' Furniture Line And It's 'Beyond' Adorable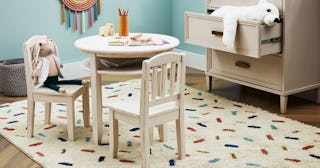 Bed, Bath & Beyond
Bed, Bath & Beyond launches new private-label kid's furnishings brand, Marmalade
Bed, Bath & Beyond's first-ever private label children's furnishings brand, Marmalade is here, and it's the stuff of Pinterest dreams. Finally, us mere mortals can create gorgeous, gender-neutral, soft-toned, chic kid's bedrooms and playrooms like the kind every mommy blogger and their families on Instagram seem to have.
Bed, Bath & Beyond's new collection — Marmalade — is contemporary, understated, with a bit of a midcentury-modern meets global feel. The company hopes that the furnishings — which are all well-made, slightly more elevated than traditional kid's furniture, and in neutral colors — will help families "transition seamlessly from toddlerhood to tweendom." You don't have to overhaul your toddler's "train-themed" bedroom when they outgrow it in a few years.
The collection includes nearly 200 items, which run the gamut from furniture to lighting to rugs and wallpaper. Bed, Bath & Beyond's goal with Marmalade is that your kid's bedrooms are just as stylish as the rest of the house.
This funky little room is part of the "Dreamer's Den" collection ($12.99 – $449.99), which includes artisanal touches like a tiny mid-century modern side table and a cheetah-print lamp shade.
We love the Jensen platform bed ($429.99) in sage. It looks comfy, elegant, but still fun enough for a kid's bedroom. Even better yet, the bed comes in both twin and full sizes.
The entire lighting collection is so damn cool, we want these in every room of the house.
This Sprinkles area rug ($159.99) is perfect for filling a small space.
We especially love all the animal-inspired artwork and decor, like this framed print of a giraffe blowing a bubble ($34.99).
A sloth, a llama — the entire rug collection ranges in price from $79.00 – $249.99.
The collection boasts classic and "durable" designs that will last for years.
The Kingsley bedroom set features soft pink and other neutral furniture, perfect for growing kids. If you want all the furniture in this photo, it's $599 for the whole thing.
If Pinterest has taught us anything, it's that no child's room is complete without a tent. You can get this pink lemon teepee ($79.99) here.
"We are beyond excited to bring Marmalade to life and into the homes of our customers who desire to outfit their little one's space with just as much style and care as the rest of their home," the brand said in a statement.
Marmalade pieces start at $14.99 for decorative accessories and $79.99 for furniture items. Even better, you can use those 20% off Bed, Bath & Beyond coupons that seem to arrive weekly in the mail on Marmalade items as well.
This article was originally published on