What To Buy Him For Your Anniversary? Cocktail Mixers And Digital Frames Are On Our List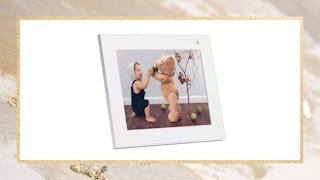 It's the time of the year again when you celebrate that day—whether it's the day you met, your first date or your wedding anniversary. He knows it, you know it, and whether you're willing to admit it or not, you're both expecting a gift—and not one that's going to take up prime real estate in your house or apartment without being *good*. If you're going to get your man something, he's hoping that it's practical and useful.
Now, where to begin? Just one Google search of "anniversary gifts for him" is going to score you a wild goose chase of options with absolutely no end in sight. So instead of searching blindly, be smart about this purchase. Consider what he does during his free time (you know, when you're bathing and feeding the kids). What are his hobbies (aside from Fortnite)? Better yet, what do you want him to have that he doesn't already? How about something that might even score you some perks (i.e. a grill that can yield you some delicious dinner or a cocktail maker that'll whip you both up a fancy old fashion)?
No matter the type of guy you're buying for, there's a gift for him here. Scroll through to find the perfect one.
1st Anniversary Gifts for Him
Wedding Anniversary Gifts for Him
25th Anniversary Gifts for Him
Need more meaningful gifts? Be sure to check out more of our mom-approved, curated gift guides.
This article was originally published on