Is This The Year You Finally Get An Artificial Tree?
by Steph Osmanski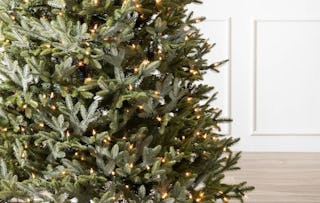 Balsam Hill
Remember when you were a kid and your parents finally pulled out the artificial Christmas tree from either the garage or the attic? It was a magical moment. Sure, the box was dusty and the used branches looked a little worn and kind of flat, but hey — Christmas is the most wonderful time of year! Not even a flat, fake Christmas tree could keep you down.
In 2020, Christmas is going to look a little different this year. We won't be travelling to see family or having guests over for big parties, but the one thing that will stay the same is putting up a Christmas tree — and maybe it won't be a traditional tree this year! Nevertheless, it's still important to you and your family to create memories and celebrate the most wonderful time of year safely.
For those looking for a fresh look to this Christmas decor this year, we did the research and found 10 of the best artificial Christmas trees that will have you second-guessing whether it's real or not.
There will be no decorating until there's a tree, so get shopping, Mama! Keep reading to check out 10 of the best artificial Christmas trees for 2019.
For more great holiday gift ideas, check our our other Gift Guides.
This article was originally published on