Artificial Intelligence: A Wreath From Amazon Is Easier & Smarter
by Steph Osmanski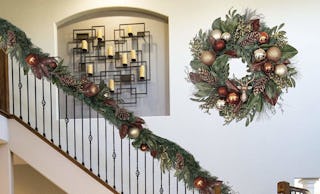 Valery Madelyn
Now, it wouldn't be Christmas without a wreath — or several — would it? Wreaths, of course, can get super pricey, especially if you're springing for a live wreath made from fresh pine and other leaves. (You know, eucalyptus, magnolia, the works.) Christmas is expensive AF anyway, so why break the bank over a wreath or too? Instead, stick to artificial wreaths this year. You won't have to throw it in the trash (or compost it!) come December 26 and you'll end up saving money. Simply pack it away for next year, so you really get a bang for your buck.
GOLD STAR
Made with both indoor and outdoor use in mind, this Christmas wreath from LifeFair feature real-looking pinecones and gold ball accessories and accents. Charming and totally real-looking, this is the perfect choice for anyone going with a gold theme this Christmas. It's battery-operated, so you don't have to worry about manually turning it on every night (#annoying), and it's also made with two strong wireframes so you know the thing won't go kaput on you.
AU NATURALE
This 30-inch artificial Christmas wreath is from Village Lighting Company's Rustic White Berry collection and features subtle moments of white berries, blue and green eucalyptus, and of course, tiny brown pinecones. Ideal for Christmastime, it's totally OK if you forget to take this wreath down after December 25; it's versatile enough to still look cute (and holiday appropriate) come January and February. It comes prelit with 40 warm, clear-colored LED mini lights and also includes a remote controlled battery pack with a timer.
BERRY CHRISTMAS
From November on, the Marion Winter Berry Wreath from The Wreath Depot will look season-appropriate hanging on your front door. With subtle hints of holiday vibes, this wreath is made from silk and decorated with red berries. Because it's made of silk, however, make sure to hang this wreath in a covered area, such as a covered porch. It also comes with an extra white storage gift box, so you can keep it fresh and safe year-round while it's in storage.
THE FIXINGS
Have you ever seen an artificial wreath look so friggin' real?! Thanks to dense and realistic-looking PVC needles, 220 branch tips work together to make this artificial wreath look real AF. It comes with a six-hour timing device, meaning it can automatically turn off after turning on the light for six hours. So, not only is the premium PVC environmentally-friendly, but you'll also be saving energy with the wreath's built-in automatic timer.
REINDEER CHIC
Green, brown, and gold may not exactly scream "Christmastime!" but even more so than some of the traditional Christmas colors, this artificial wreath gives off a very festive vibe. With gold ornaments, gold lights, a bronze reindeer, and of course, a gold shimmer glittering on the whole wreath (even the leaves!), this wreath is for sure to get some compliments.
A CLASSIC LOOK
There's nothing like a classic Christmas wreath. It just gets the job done, you know, without all the bells and whistles. Bells and whistles can be great, but if the look you're going for is an understated one, best to do it with a timeless wreath look that goes with any style.
LET IT SNOW
It's hard for artificial wreaths to do the whole "fake snow" thing without having it look like, well, fake snow. The Northlight Flocked Angel Pine Wreath, however, does it well. Featuring subtle pine cone accents, this wreath will look beautiful against any front door backdrop — no matter where you live.
I'LL HAVE A BLUE CHRISTMAS WITHOUT YOU
Looking for a bigger, brighter artificial wreath option? This silver-and-blue wreath from the Celebration Ornament Collection is 30 inches of prelit Christmas cheer. You've got 50 warm clear LED mini lights that can be controlled by the push of a button a la a remote-controlled battery pack with timer.
MAGNOLIA LEAF CHIC
Love a good magnolia tree? Then this LIFEFAIR wreath is right up your Christmas decoration alley. With subtle magnolia leaf detailing, two large gold bells, and a rustic bow placed right in the middle, this artificial wreath will undoubtedly elevate the look of your farmhouse.
SIMPLE AND TIMELESS
This boxwood-eucalyptus wreath from LASPERAL looks so lifelike, it could pass for the real deal. Vibrant and made from professional flower-made plastic that's harmless, this artificial wreath is a versatile accessory that's perfect for Christmas, but really could be hung up any time of year. You don't have to worry about fading with this wreath because it includes ultraviolet protection, keeping it intact (without fading) for years.
SOMETHING OUT OF A FAIRYTALE
Is it just us or is it if woodland nymphs flew off into the forest to collect every one of the materials for this wreath by Balsam Hill? It may be all artificial, but it sure as heck looks like something straight out of a fairytale.
AS TRADITIONAL AS THE HOLIDAY SEASON ITSELF
Don't need the berries, the faux snow, and all that jazz? Keep things simple — and equally as elegant — with the Red Sleigh Sequoia Fir Commercial-Grade Traditional Christmas Wreath. Not only is it a modern take on a timeless-looking wreath, but that price point is something we can get behind. Especially since the high-quality points make it look like a $150 wreath.
This article was originally published on