7 Safest Bed Bug Sprays To Effectively Keep Bites At Bay In 2021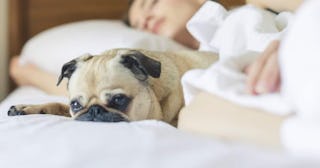 Pexels
Bed bugs f*cking suck and if you ever have to experience feeling run out of your own home by pesky little creepers, we're sorry. But, there are some things you can do to prevent the multiplication and increase of bed bugs and bites in your home. One of those things is finding the best bed bug sprays to use regularly in times of exposure risks (aka traveling) or when you're combating a full-fledged infestation. BTW, do not feel any shame for dealing with bed bugs. It can happen to anyone, in any home.
Here's the tricky part. While your natural instinct is to strip your home naked and douse it in insecticides, there's a serious issue with plenty of those formulas that should stay top of mind: Insecticides are often toxic and harmful, especially for fur babies, regular babies, and kids.
The truth is sometimes it's just not possible to front the cost of a pest control team to manage a bed bug infestation properly and professionally. What you can do, is opt for some of these at-home treatments while keeping your precious family members away from the home, or at least at a distance from the area being treated. Try to open all windows in your home and run some fans to keep the air circulating, especially if you're using a non-natural formula. Once the cleansing process is over, we hope you can get back to living a bed bug- and bite-free life. Take a deep breath. This too shall pass.
What is the most effective bed bug spray?
The most effective effective bed bug spray is one that is effective in killing eggs, nymphs, adults, and even pyrethroid-resistant bed bugs. The most effective bed bug sprays are also easy to use with a spray nozzle or aerosol-based application feature. This makes it possible to protect yourself and your family against bed bugs in an affordable pinch.
Read on for some reviews on the best bed bug sprays for your home.
This wildly popular EcoRaider bed bug spray has over 3,000 promising reviews on Amazon. The Journal of Economic Entomology stated this product is one of the only natural formulas to kill bed bugs with 100% efficacy. Sign us up. The formula wipes out eggs, nymphs, adults, and pesticide-resistant bed bugs. It's also made of a non-toxic and eco-friendly formula, so you can feel better about spraying liberally when you want to.
This non-toxic formula contains over 2,300 rave reviews on Amazon. Sounds freaking nasty, but the organic formula is designed to kill eggs, nymphs, and adult bed bugs on contact. Honestly, strap a flashlight to it and consider it your midnight blaster to keep those little freaks away from you and your kids in the middle of the night. It's designed to not stain your bedding either, so if you're feeling desperate it's okay to sparingly use it on your bedding before you hit the sheets. Just let it dry first and sleep in bed bug-free clothing. Oh, and if you're not feeling confident that your clothing is bed bug-free? Take a towel soaked in this bed bug spray and toss it into a hefty bag filled with the clothing you're questioning. Keep it sealed for two weeks and shake the bag occasionally. That should do the trick.
This easy-to-use bed bug spray contains a fast-acting formula designed to dust on protection that will last. It kills bed bugs, their eggs, and even the pyrethroid-resistant bed bugs. The aerosol bed bug spray can also be used for fleas. If you always just like to air on the safe side, it doesn't hurt to give your luggage a spritz with this formula before, during, or after a trip. There are some powerful chemicals in this can so please keep it away from skin and kids. Reviewers say this formula will "butcher bed bugs on contact." Damn.
This kid- and pet-friendly bed bug spray is designed to kill annoying AF bed bugs in an instant, but also linger long enough to continue warding off bed bugs long after the spray has dried. The clove oil, cedar, and cottonseed oil act as natural insecticides, and the easy-to-use nozzle makes defense a breeze. It's non-staining as well, so you can apply it directly to curtains or your wooden bed frame. Reviews about this bug spray say after use, not one bed bug sighting happens if used in conjunction with mattress encasements.
RELATED: Lice Ruins Literally Everything
If you love the regular plant-based bed bug spray by Harris, you might want to invest in a gallon-size version of the exact formula. If you're spraying a larger area (like the perimeter of your home or individual rooms) this will come in handy. Reviewers say you'll be able to smell cedar, a natural insecticide, but it fades as the sprayed areas dry.
This natural and non-toxic bed bug killer comes in a gallon-size container that gives you more freedom to spray until you feel safe. This formula has been tested through the USDA IR4 PHP program in public housing environments and it was proven to work.
This travel-sized bottle of Bed Bug Patrol spray is genius. Even if you're not actively combating bed bugs at home, you'll want to keep this small bottle of bed bug killer in your favorite luggage piece for days spent in a foreign place, and bed. If you notice signs of bed bugs during your travels or in your hotel room, you'll be so relieved to have this bottle of bed bug spray nearby. Spray a rag or hotel towel with it and toss it in your suitcase to prevent taking any of the pesky bed bugs with you when you leave.
This article was originally published on