Books Books Books! Scary Mommy Staff Faves
by Rachael Lubarsky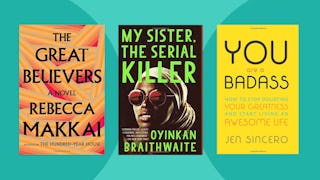 As the weather turns cooler and the days start to get shorter, curling up in a chair with a warm blanket and a good book gets even more appealing, areweright? We picked the brains (and bookshelves) of the Scary Mommy staff to get your next favorite reads — from murder mysteries to historical nonfiction to post-apocalyptic zombie stories. You know, a little bit of everything. Happy reading!
By Kristin Hannah
"Historical fiction about the Nazi occupation of France told through the perspective of two very different sisters, each who played a 'secret' role in the resistance. I don't usually like historical fiction, but this one was incredible. A real page turner during which I cried a LOT. It's a story of love and war with strong female characters and a different and incredible perspective on the war."
-Sarah Wamble, Director of Client Services
By Ling Ma
"Totally unlike anything I'd ever read before. A post-apocalyptic story about zombies, the immigrant experience, and capitalism. A millennial NYC office worker chooses to keep going to work every day, even after most of the world is afflicted by a fever that turns them into zombies. She then travels across post-apocalyptic America to find other survivors and ends up living in a deserted shopping mall, where each character has to pick which store they want to live in — J. Crew, Abercrombie & Fitch, Apple Store, etc.. If Walking Dead, The Office, and Joy Luck Club had a baby, this would be it. I've never related more to a zombie story (which is probably a good thing). Thought-provoking, absurd, and un-put-downable."
-Phuong Ireland, Head of Merchandising
By Rebecca Makkai
"A New York Times 10 Best Books of 2018, this transported me to Chicago during the 1980's and the world of those deeply affected by the AIDs epidemic. It was funny, heartwarming, and tragic and just a wonderful read."
-Melissa Weingarten, General Manager eCommerce
By Jonas Jonasson
"I love this book because it reminds you to enjoy the little things in life and to take a step back and appreciate every day that you're alive – plus the book is sensational and hilarious! The title alone would have turned me away but I'm so glad I took a chance on this book — it's one of my top 3 favorites of all time."
-Patrick Bologa, Senior Manager, CRM
By Amor Towles
"One of my all time favorites: Rules of Civility. It's a bit like The Great Gatsby — a young girl coming into adulthood in a social-climbing society, set in NYC in the late 1930's (post Depression). She finds herself thrust into high society and figures it out along the way. The portrayal of 1930's Manhattan is brilliant. I loved the feminist overtones and the strong female characters. (I read the book assuming the author was female, so I was surprised to find out the writer was male!)"
-Jessica Bennett, Director of Advertising Sales
"Entertaining and thought provoking, the one-time U.S. Attorney for the Southern District of New York teaches us about moral decision-making when there is no right answer as he recounts the stories of cases brought by the famed federal prosecutor's office."
-Tamara Sepper, Chief Content Officer
By Kristen Mae
"I wrote this, so I'm biased. Here's a recent Amazon review instead:
'This book will have you on the edge of your chair! Dark, twisted and profound with bits of compassion and eagerness. Do you feel hatred toward the right character? Maybe feel bad for the wrong one.. who knows! This book has so many twists and turns, it was hard to put down.'"
-Kristen Mae, Staff Writer
By Jen Sincero
"I bought this as an audio book and it's one of the best decisions I've ever made! This book is all about tapping into your own potential and manifesting great things for yourself. Honestly, I give it a listen every single time I need a swift, "you're fabulous" kick in the ass. I can't recommend it enough!"
-Ashley Hearon-Smith, Scary Mommy Speaks podcast co-host
By Michelle McNamara
"I love true crime. This woman's obsession ended up solving a crime that had been unsolved since the '70s. It's amazingly written and is absolutely fascinating."
-Keri Setaro, Scary Mommy Speaks podcast co-host
By Meg Wolitzer
"This funny, sometimes tragic, sometimes uplifting saga follows a group of friends from their childhoods in summer camp in the 1970's through their present-day middle age years. It's about not always getting what you want, but learning to want what you get. What I love about Meg Wolitzer is how amazingly three dimensional her characters are — they're relatable, flawed, and real. She spins great stories and creates turns of phrase that make me say, "I wish I wrote that."
-Rachael Lubarsky, Copywriter
By Oyinkan Braithwaite
"This novel is brimming with poignant prose, murder, and intrigue. A quick read that is perfect for anyone who loves a good murder podcast!"
-Priya Solanki, Creative Project Manager
By Samantha Irby
"This book of essays was so funny my family almost got off the couch to resuscitate me. Yep, I'm giving you this recco from beyond the grave. WORTH IT."
-Liz Henry, Senior Editor, Branded Stories
Although we only recommend picks we really love, we may earn a commission on purchases made through links from our site.
This article was originally published on