Ready To Finally Figure Out Your Bra Size? Best WFH Bras For D+
by Anna Baboval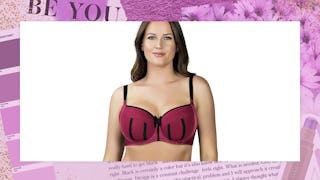 We're all guilty of wearing our bras well past their expiration date. If you have to think about it, it's probably time for some new ones. (Especially those of us with larger than life cup sizes.) Sometimes it's just really hard to part with our favorite comfort bra. More likely, we just keep wearing the same ones even though they have lost their shape and the elastic is stretched beyond recognition. (Guilty!) As busy moms, who the hell has time to go for a bra fitting or study bra fit size charts? So we're left wondering "what bra size am I?" when the time comes to purchase new bras. The long standing statistic is that 80% of us are wearing the wrong bra size. Is that true? Most likely yes.
There are a few problems that contribute to this perpetual statistic (more than just what the lord gave us). One of them is the actual size of our breasts compared to sizes that most mall brands offer. Who is going to know they're a G cup when you only have access to Ds at your local retailer? For many of us we need to take matters into our own hands and measure at home. We know, just one more thing on our never ending to do list, but this one is actually really important. We've all seen the bouncing Baywatch girls as they run down the beach, in reality no one wants to be that girl! (Okay yes we do, but not with the out-of-control boobs.)
The proper bra fit is really important for a few reasons, number one is keeping our ligaments that hold up the bust from stretching out and preventing shoulder grooves. A good fitting bra should make you look thinner in your clothes (yes please!), should be comfortable (aka no more heat rash from saggy boobs against our stomach!), and should make you feel confident.
Okay so what size are we exactly? Check out this video for a quick and easy tutorial on how to measure bra size correctly. The never-ending question— what bra size am I?— ends here.
We know calculating your cup size larger than a D can quickly become a complicated math problem, especially with mom brain. To add insult to injury, gaining or losing 10 lbs can change our bra size (not to mention pregnancy, that time of the month, or menopause) so measure, measure, measure!
Final words of wisdom? Not all bras are created equal, especially for those of us larger than DD. Grace Baker, Director of Fit and Technical Design for Parfait Lingerie explains it's important to pay attention to "the width of the strap and the stretch. A wider strap will be more comfortable and not cut into the shoulder. The less stretch a strap has will keep the bust from bouncing. Support in a bra comes from 3 areas, the bottom band, the straps, and the pull on the back. The stretchier a back band is, the more the straps have to support the weight of the bust. So a wider bottom band elastic, good fabric in the back, and a wider hook and eye help to support the bust and take the stress off of the shoulders," says Grace.
Moral of the story, less stretch, more support. Go to it and get your right fit with best bras for DD (E), best bras for DDD (F), and…you get it— beyond!
Best Full Coverage Bra for DD+ Cup
Best Demi Coverage Bra for DD+ Cup
Best T-Shirt Bra for DD+ Cup
Best Strapless Bra for DD+ Cup
Best Sports Bra for DD+ Cup
Best Maternity Bra (Best Nursing Bra) for DD+ Cup
Looking to revive other areas of your wardrobe? Check out all of our mom fashion tips and tricks to keep your outer layers looking as good as your innerwear.
This article was originally published on