The Best Candles You Should Be Gifting Everyone In 2021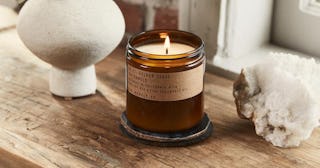 P.F. Candle
Candles are not just a piece of home decor or an accessory. Candles are a lifestyle. And if you're looking for the best candle brands and scents out there, you've come to the right place. I have personally tried hundreds of candles by this point, and pretty much know all their burn times by heart. I have favorite candles for summer, fall, winter, and spring. I have favorite candles for when I'm sad. When I'm sleepy. When I need to focus. Or when I just need a candle to get in the zone and feel cozy.
The only problem is that there are *so* many candle brands out there, and it can be hard to choose. Obviously, it totally depends on your mood, how your candle is serving you, and what scents you enjoy. Candles have all different kinds of price points, but let me just say this: Expensive is not always better. You can find a gorgeously scented candle at Target or on Amazon for under $20 and it'll last you just as long as something more upscale.
With that said, let's talk candles.
Best Candle Brands & Scents: