Cashmere Sweaters And Kids? They Can Go Together With These Expert Picks And Washing Tips.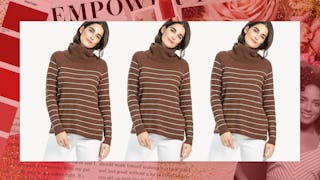 Just because you're a mom doesn't mean you can't treat yourself to the finer things in life. Heaven knows you've earned it. While some moms steer clear of cashmere sweaters (hello, it can be a b*tch to keep clean and it isn't exactly wallet-friendly), we say it can be done.
Pauline Nakios, the founder of Lilla P, and maker of some gorgeous knits, is here to shed light on the do's and don'ts of cashmere. When it comes to caring for your cashmere, she says to "wash or dry clean after every two to three wears if possible." Should you choose to launder at home, she swears by the Laundress ("they make a wonderful Wool & Cashmere Shampoo") or other gentle detergents.
Beyond that, be sure to "Turn your sweater inside out, put it in a mesh bag and wash on gentle cycle with cold water and delicate detergent, or try hand washing in cold water with a very small amount of detergent." She adds, "After washing, you can roll the sweater up inside a dry towel, which will help remove the moisture. Gently reshape the sweater when damp and lay flat to dry. If needed, you can steam the sweater to get rid of wrinkles." When storing your sweaters, "make sure to store them clean and protect from those pesky moths during the off-season," Nakios says.
Keeping the kitchen counter spot-free, let alone our clothes, is easier said than done. Whatever the culprit may be (wine, dirty hands, spaghetti sauce, you name it), "Be sure to quickly put stain remover or gentle detergent on the stain. Do not rub the spot, but let the treatment soak into the stain before laundering," she says.
Last but not least, remember that oftentimes you get what you pay for. "Cashmere is an expensive fiber, so generally, a thick, heavy cashmere sweater is going to be expensive," Nakios says. If you do find a less expensive cashmere sweater then usually it's made from lower grade fibers. While longer fibers are more desirable and less prone to pilling, "Cashmere that is knit in a finer gauge and looser tension can still make a beautiful sweater," she says.
Check out the best cashmere sweaters—from Amazon to Everlane—that are reasonably priced and mom-approved.
In search of rainy day gear or a pair of contemporary mom jeans? We've got you covered with all the style essentials you'll need to live your best (mom) life.
This article was originally published on