Impress Santa This Year With These Christmas Stockings
by Steph Osmanski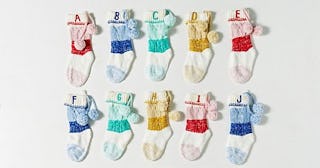 Anthropologie
The wreaths are up, the garland is placed, even the inflatables are tacked down to the lawn with care. It's all in the hopes that Saint Nicholas will soon be there. But there's nothing more festive-feeling than officially hanging the stockings up along the fireplace.
Whether you're going for a certain color scheme or want to buy stockings personalized to your family's interests and personalities, there's a stocking out there for you. From playful pom-pom stockings to hand-crafted ones that will score big with sports fans, keep scrolling for the 10 best Christmas stockings for 2019.
SHAKE YA POM-POMS
If you're not afraid to decorate with color, then go for this vibrant pom-pom look that's as appealing to the adults in the room as it is the kids. They're playful, fun, and most importantly, Mama, there's plenty of room for your S/O to cram in all those stocking stuffers you wanted from Sephora.
FOR TYPE A MAMAS
Like the fireplace looking a certain way? Hey, we don't blame you, Mom. You run your ship however the f*ck you want. Anyway, these red and white knitted stockings are perfect for a traditional feel and will match perfectly with just about any color scheme you're going for this Christmas. The four-pack features two burgundy stockings and two ivory ones. They're knitted on both sides, so you can hang from the left or the right side without worrying about revealing a plain back lining.
DON'T GET MAD, GET BUFFALO PLAID
If you're the family that sends Christmas cards every year featuring every one of you wearing matching Buffalo plaid pajamas, then you might as well keep the tradition going with matching stockings. Coming in at just $27.99, this six-pack of stockings is a total steal and there's ample room for Santa to stuff 'em full of gifts (or coal).
CLASSIC BURLAP
Going for that farmhouse vibe? What better way to execute the quintessential farmhouse style than with burlap stockings. This three-pack features three low-key, but still chic, white snowflake designs. It goes great with a monochromatic decor scheme, or since it's relatively neutral, you can mix it with a super festive and colorful tree.
CALLING ALL SPORTS LOVERS
These sports-themed stockings are hand-sewn, so you know they're made with love, and won't go unappreciated by the big-time sports fans in your fam. Whether your family goes hard for hockey, basketball, or baseball, there's a GEX 2019 stocking for every sports fanatic in the home. You can also customize the combinations if you'd prefer.
MERMAIDS ONLY
Well, these stockings are sure to make a big splash for the mythical creature-lover in your life. This mermaid tail reversible sequin stocking will give your Christmastime mantle quite the colorful (and whimsical!) touch. As you move your hands across the sequins, it changes their direction, and ultimately, their color. Better adhere this to the mantle well, mama, as you know little hands are going to be touching the sequins 24/7.
MONOGRAMMED TO PERFECTION
Mom, we promise you if you snag these monogrammed stockings from Anthropologie, you might end up wearing them on your feet instead of hanging them along the banister. Don't they look so comfortable?! With a subtle pom-pom detail and a fuzzy AF finish, these stockings are hand-washable, made from acrylic, and will help you deck your halls with color.
HANG IT UP AND LET IT GO
A Frozen obsession is not something you just let go. Elsa, Anna, and all the friends they make in between stick around with you, in summer and all the way to December 25. Blast the soundtrack as you hang up this Disney stocking and the Frozen lover in your life is sure to freeze over with excitement. (And maybe even thank you with a warm hug, Olaf-style.)
SILVER BELLS
Keep it simple with some of the most recognizable wintertime characters: a snowman, penguin, reindeer, and of course, Old Nick himself. Sleek and shiny, this mostly white-and-silver design is made with embroidery, so the images really pop and appear three-dimensional. The cloth is durable and safe, so you don't have to panic about turning the fireplace on while these are hanging above.
TRADITIONAL RED AND GREEN
While we love a quality monogram, there's something to be said for full-blown personalization, too. These red-and-green wool stockings are traditional, made from high-quality wool, and will last you a lifetime. No need to ever buy Christmas stockings again! These are the real deal, feature a fully lined and spacious interior, and feel luxurious to the touch.
This article was originally published on